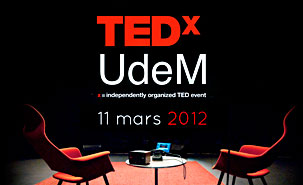 The inaugural TEDxUdeM conference will take place on Sunday March 11, 2012. The event is organized by a team of volunteers led by two University of Montreal (UdeM) students – Renaud Philippe Naubert and Carlos Descovich – and it will be taking place at the Société des arts technologiques (SAT) on Montreal's famous Boulevard Saint-Laurent.
Attendance is limited to 100 people, but the presentations will be made available online via a live simulcast and on the TEDx YouTube channel. Moreover, the event will projected live at an UdeM auditorium, and the closing cocktail at the SAT will be open to everyone.
Prospective attendees must apply for tickets via an online form (www.tedxudem.com/assister) that asks them to explain their interest in the event. Applications can be made from today until February 23.
"Applicants must be able to demonstrate that they are both curious and open minded, and furthermore, that they have already taken part in some kind of creative project," explained Communications Manager Philippe Huot. "This process is to ensure that the attendees are able to undertake the active role at the conference that they will be expected to play. The breaks and the furniture are intentionally organized in a way that encourages people to share their ideas and develop new collaborations with people whose expertise is completely different from their own."
TEDx events are independently organized and licensed by TED, a nonprofit organization devoted to "ideas worth spreading." More than 3,100 TEDx events have taken place since the program began.
"When the students asked us if we would support their initiative, we immediately said 'yes'," said Dr. Guy Breton, Rector the University of Montreal. "We are very impressed with our students' energy and leadership; they admirably represent our university and its excellence!"
This assembly of minds will be guided by a rich and varied programme that respects the TEDx concept. Fifteen speakers from various backgrounds will have 18 minutes to present their project and their creative ideas. Eleven of the fifteen conferences will be in French, the rest will be in English. "Even if this is predominantly a French-speaking TEDx, as we are in Montreal and considering the interest of the English-speaking population, we decided to ensure they would be represented," said Carlos Descovich, Co-organizer.
Speakers (in French only):
Francesco Tordini, ingénieur du son. Selon lui, il est possible d'accomplir une révolution dans le domaine de l'audition qui soit aussi marquante que l'ont été les trois dimensions pour l'expérience visuelle. (English)
Moshe Szyf, généticien. Ses travaux prouvent pour la première fois que l'environnement modifie notre bagage génétique. (English)
Miss Pixels, artiste. Elle est devenue une pionnière non pas de la photographie, mais du phénomène de l'art mobile, l'iPhoneographie.
Vincent Dumez, gestionnaire. Pour lui, l'autonomisation du patient et le développement de ses compétences en matière de soins constituent le cœur des enjeux en santé.
Paula Meijerink, architecte paysagiste. Elle conçoit le design comme un instrument de changement. (English)
Daniel Weinstock, éthicien. Il est la référence au Québec relativement aux questions liées au multiculturalisme et à la citoyenneté.
Mohamed Hijri, microbiologiste. Il codirige un projet mettant à contribution la biologie dans le processus de décontamination.
Danielle Bergeron, psychiatre. Elle a élaboré un processus clinique où, plutôt que d'être pris en charge à vie par des établissements, les jeunes adultes psychotiques retrouvent leur autonomie.
Mohamed Hage, entrepreneur. Son entreprise conçoit, construit et gère des serres sur les toits et lui espère révolutionner l'agriculture. (English)
L'équipe du gant sensoriel, Poly-projet. Cette équipe d'étudiants en génie de l'École Polytechnique a conçu un gant à fibre optique capable d'interpréter le langage des signes.
Benjamin Devienne, informaticien et éthicien de jeux vidéos. Il a fondé un groupe de recherche qui s'intéresse aux comportements sociaux à l'intérieur des jeux vidéos.
François Chartier, sommelier. Il est la référence mondiale en harmonie et sommellerie moléculaires, discipline dont il est l'instigateur.
Sylvain Martel, ingénieur. Avec son équipe, il se penche sur l'application médicale des nanotechnologies et il est à l'origine d'une avancée spectaculaire dans la lutte contre le cancer.
Karim Benyekhlef, avocat. Il dirige le nouveau laboratoire de cyberjustice, un projet qui vise à faire prendre le virage technologique au système judiciaire.
Luc Courchesne, designer industriel et artiste. Il cherche à transformer le spectateur en visiteur, acteur et même habitant des œuvres qu'il crée.
Links
About TEDx
In the spirit of ideas worth spreading, TEDx is a program of local, self-organized events that bring people together to share a TED-like experience. At a TEDx event, TEDTalks video and live speakers combine to spark deep discussion and connection in a small group. These local, self-organized events are branded TEDx, where x = independently organized TED event. The TED Conference provides general guidance for the TEDx program, but individual TEDx events are self-organized. (Subject to certain rules and regulations.)
About TED
TED is a nonprofit organization devoted to Ideas Worth Spreading. Started as a four-day conference in California 26 years ago, TED has grown to support those world-changing ideas with multiple initiatives. At TED, the world's leading thinkers and doers are asked to give the talk of their lives in 18 minutes. Talks are then made available, free, at TED.com. TED speakers have included Bill Gates, Jane Goodall, Elizabeth Gilbert, Sir Richard Branson, Benoit Mandelbrot, Philippe Starck, Ngozi Okonjo-Iweala, Isabel Allende and former UK Prime Minister Gordon Brown. Two major TED events are held each year: The TED Conference takes place every spring in Long Beach, California (along with a parallel conference, TEDActive, in Palm Springs), and TEDGlobal is held each summer in Edinburgh, Scotland. TED's media initiatives include TED.com, where new TEDTalks are posted daily; the new TED Conversations, enabling broad conversations among TED fans; and the Open Translation Project, which provides subtitles and interactive transcripts as well as the ability for any TEDTalk to be translated by volunteers worldwide. TED has established the annual TED Prize, where exceptional individuals with a wish to change the world are given the opportunity to put their wishes into action; TEDx, which offers individuals or groups a way to host local, self-organized events around the world; and the TED Fellows program, helping world-changing innovators from around the globe to become part of the TED community and, with its help, amplify the impact of their remarkable projects and activities.
For information about TED's upcoming conferences, visit www.ted.com/registration
Follow TED on Twitter at twitter.com/TEDTalks , or on Facebook at www.facebook.com/TED