Montrealer heads to Congo to fight childhood disfigurement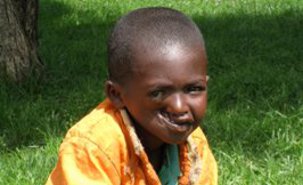 Marie Renaud, an intern at the University of Montreal and CHUM Hospital's International Health, will be joining the World Health Organization's African office, where she will be working on the funding of the fight against Noma. This disease, scientifically called cancrum oris, eats away the faces of children– mostly in Sub-Saharan Africa. Despite the existence of a cheap and easy treatment, it remains one of the most deadly diseases of our times, as it kills 90% of its victims within two weeks.
Faces that we all ignore
Also known as "the face of poverty," the disease does not attract much attention from governments and major world organisations. Yet, for Miss Renaud, it is a cause that she holds dear to her heart, having written her Master's dissertation about the topic. She believes that "Noma eradication should be one of the great medical and humanitarian causes of our century as it touches helpless children and is the symbol par excellence of much bigger societal problems." In her opinion, the disease reflects the overall world problem of unequal wealth distribution and extreme poverty. However, in the last decades, there was no progress in reducing the mortality rate.
The 10% survivors have to live with unbearable aesthetic and functional sequelae as they are horribly disfigured. They suffer from the rejection from their family and community, but they also develop major difficulties to speak, eat and breathe. Until now, most initiatives have focused on post-disfigurement surgeries, which are long-lasting and expensive. The focus should be put towards better prevention strategies and early detection, to prevent the disease from occurring.
Touring Africa
The first stage of Miss Renaud's trip begins at the Oyem Regional Hospital in Gabon, where she will undertake a financial review and a patient satisfaction study. These reports will be essential for the hospital as it strives to improve its quality of care. Two months later, she will arrive in Brazzaville, Republic of the Congo, where she will start her work on Noma. She intends to stay there for three months.
Interview availabilities (English/French)
Until March 1 : Monday and Tuesday (Feb. 27-28), between 9.30 am and 9.00 pm, Wednesday February 29 from noon to 9.00pm,  and Thursday March 1 from 9.00 am to noon. Tel.: 438-826-1678.
From March 3 : Contact Maryève Tassot (maryeve.tassot.chum@ssss.gouv.qc.ca) 514-890-8000 ext 16340 to organize an interview.
About Marie Renaud:
In September 2011, Marie Renaud completed a Master (MSc Population and Development) with merit at the London School of Economics and political sciences (LSE). Prior to this, her interest in global issues had led to obtain a certificate in International Studies at Université de Montréal's Faculty of Arts and Science, and a trilingual Bachelor of Business Administration (English, Spanish and French) at HEC Montréal, completed with an "excellence" profile.
On the Web :