A brighter summer at Université de Montréal's International Summer Schools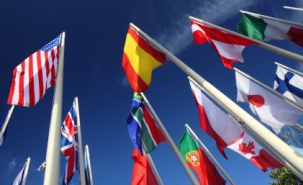 The Centre for International Studies at Université de Montréal (CÉRIUM) is once again offering students and the general public an opportunity to gain a better understanding of our changing world through its International Summer Schools programme.  The schools will be held on the university's campus from July 2 to 14, 2012.
"Since they were created, a growing number of citizens and students who are interested in international issues have participated in our schools. This year, we are adding a course on global criminal networks – a topic that is increasingly present at an international level, in particular because they draw special advantages from the Internet," says Jean-François Lisée, executive director of CÉRIUM. "We have also invited John Parisella, Université de Montréal's new director of fundraising and Quebec's former delegate to New York, to co-direct the school on the United States in this crucial election year."
While the general public is welcome to attend, the eight, intensive six-day schools bring together about ten experts and will be of particular interest to  community and NGO participants, journalists, teachers and educators, executives, interested citizens, and graduate and finishing undergraduate students.
This year's edition will cover two new issues: Europe's crisis and Brazil's promising situation.
Registration for the schools is possible on a weekly or daily basis and can also be arranged in order to follow a specific topic across several schools or to obtain full access to the complete range of seminars. They are all offered in French and in English.
The Summer School
Globalized Crime Networks: Cybercrimes, Terrorism and Mafias
Network analysis methods help us understand the vitality of contemporary organized crime, its flexibility and the adaptability of its responses to authorities efforts to control it. Criminologists and sociologists analyze the various forms taken by transnational crime networks.
Directing the course : Benoît Dupont, International Centre for Comparative Criminology Director and Chairholder / Chaire en sécurité et technologie
The United States in 2012: Year of Decision
With the presidential election campaign in full swing, the United States is in an economic slowdown and politically paralyzed. Is the country of "Yes we can" yielding to "Well, we tried?" American and Quebec experts tackle this question and the many issues it raises.
Directing the course: John Parisella, Former Quebec's Delegate General in New York ;
Director, UdeM's Fundraising Campaign and Jean-François Godbout, Adjunct professor, Political Science Deptartment, UdeM
China, Superpower!
Chinese, North American and European experts will offer a six-day, in-depth examination of China. Among the topics covered: China's economy and social safety net, human rights in China, the rule of law and the enduring strength of the ruling Communist Party.
Directing the course: Jean-François Huchet, Director, The French Centre for Research on Contemporary China and Professor, INALCO, School of China Studies
Europe in Crisis
The crisis gripping the world's largest economic zone is raising questions about the continent's influence worldwide. Is there still economic and political leadership in Europe?
Directing the course: Martial Foucault, Professor UdeM, Réseau d'économie internationale (REI)  and European Union Centre of  Excellence (EUCE) ; and Frédéric Mérand, Professor UdeM, Adjunct diretor at EUCE
The Arab Spring: Year Two
The Arab world is changing before our eyes. In this course, professors and experts will offer keys to understanding the rebellions and describe the forces at play as well as the particularities of the main countries involved
Directing the course : Samir Saul, Professor in the Department of History, UdeM; and Azzédine Rakkah, Research Director, Centre for International Studies and Research,  Sciences Po Paris
Human Rights on Earth: A Diagnosis
Six days of intensive training on human rights. Subjects include the international evolution of human rights and the Universal Periodic Review mechanism of the United Nations' Human Rights Council.
Directing the course: Karim Benyekhlef, CERIUM Scientific Director,  Centre de recherche en droit public Director ; Professor at the Law Faculty, UdeM; and François Xavier Saluden, Lecturer in International Law and Water Law, Communication Director at the French-Speaking Network of International Law (RFDI).
Scandinavian Model: Tools for Success
How have Scandinavian countries become global leaders in the fields of education, employment, quality of life and economic growth? Teachers and specialists will analyze the Scandinavian model and describe its distinctive features.
Directing the course : Henry Milner, Visiting scholar, UdeM, Canada Research Chair in Electoral Studies
Brazil: Ready for Takeoff
Brazil has never been more seductive. Long oppressed, Brazilians are now taking stock of the democracy they have built, savouring their newfound wealth and coming to terms with their unprecedented diplomatic influence. Our experts offer a hard-hitting analysis of Brazil's foremost achievements and of the darker sides of this vibrant society.
Directing the course: Philippe Faucher, Professor at Political Science Department (UdeM), REI Member.
On the Web :
For further information:
William Raillant-Clark
International Press Attaché
Université de Montréal
Tel: 514-343-7593 
w.raillant-clark@umontreal.ca
@uMontreal_News