400 Canadian and American Archaeologists in Montreal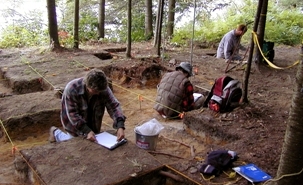 The Department of Anthrpology at Université de Montréal would like to invite the media to attend the Canadian Archaeological Association's Annual Meeting, which will include the participation of the  Association des archéologues du Québec. From May 16 to 20, 2012, More than 400 archeologists from across Canada and the United States are expected to be at Montreal's Hôtel Gouverneur, where more than 300 conferences in English or French will be given about historical and pre-historical archeology. The meeting is being organized by Adrian Burke, Claude Chapdelaine and Brad Loewen, professors of archeology at Université de Montréal's Department of Anthropology.

Of special note amongst the hundreds of conferences in the programme:
Bioarcheology in Quebec
Archeology in Montreal during the « grands projets »
Ten years of excavations in Old Montreal, at Pointe-à-Callière
Archeology in the Trois-Rivières, Bécancour and Lac Saint-Pierre regions
Maritime Archaeology on land and under water
Archaeological Perspectives On Arctic territory
At the closing banquet on Saturday May 19, at 6.30 pm, a special conference entitled "40 years under the sea: Development of underwater archaeology in Canada" will be given by Robert Grenier, ex-president International Scientific Committee on Underwater Cultural Heritage, ICUCH, UNESCO/ICOMOS and Former Chief of Underwater Archaeology Service at Parks Canada. He will be speaking about his forty years of professional experience in sub-aquatic archeology.
Canada has become a world leader in the management and protection of submerged cultural treasures. This highly illustrated bilingual presentation will retrace the birth and selected chapters of underwater archaeology development in this country. The discovery of the 16th century Basque galleon San Juan of Red Bay, which links the history of the Old World with that of the New World, the controversial search for the Chameau treasure of 1725, near Louisbourg, NS, in the early sixties, and the arctic expeditions which took place between 1983 and 2008 in search of John Franklin's ships will be featured, amongst others in Robert Grenier's talk. Please note that while this conference is not open to the general public, journalists are welcome to attend.
Key Facts :
The event organizers are available to talk about how federal budget cuts may impact archeology research in Quebec and the rest of Canada.