A Montreal lawyer's photographic ode to hope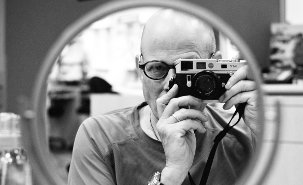 William Brock's fight against leukemia did not end following his treatment at Hôpital Maisonneuve-Rosemont, an Université de Montréal affiliated research hospital.  Mr. Brock, partner at the law firm of Davies Ward Phillips & Vineberg LLP, has undertaken a number of major initiatives to advance the treatment of blood cancers, including most recently the publication of "Portraits of Hope." The book, which is being simultaneously published in French under the title "Portraits d'espoir," is being launched at a reception at 6 pm tonight at Université de Montréal.
It is an uplifting portfolio, in high-quality coffee table book format, of photos and testimonials of cancer survivors and those who have accompanied them through their fight: family, bone marrow or stem cell donors, physicians, nurses and researchers. The photos in the book, which features almost 50 blood cancers survivors, including Saku Koivu, Paul Henderson and John Gomery, were taken by William Brock and Montreal photographer Angela Boismenu. Proceeds from the book will fund cancer research through the William Brock Fund for Research and Education into Blood Cancers, which was created in November 2006 in recognition of the world class care he received at Maisonneuve-Rosemont Hospital. To date, the fund has raised well in excess of $1 million for cancer research.
In September 2004, William Brock was diagnosed with acute myeloid leukemia, seven years after his father's death from the same diagnosis. He survived thanks to the skill and care of the doctors and nurses who treated him, the leading medical research available to them, and a bone marrow transplant from his physician brother. "Through the stories of those who have faced the terror of blood cancers and triumphed over it, I hope my book will inspire others and encourage them to donate generously to research. Such research will hopefully allow many more to say: I have beaten leukemia, I am alive, I am strong and I am forever grateful," Mr. Brock said.
This initiative is greatly appreciated by the scientific community. "Our understanding of disease is becoming more and more complex and available institutional research funding is unfortunately insufficient to respond to society's growing needs," said Dr. Hélène Boisjoly, Dean of Université de Montréal's Faculty of Medicine. "The William Brock Foundation and other initiatives that raise funds for research are essential to the advancement of science and for eventually finding cures. This anthology of inspiring testimonials and beautiful images offers a message of hope not only for survivors and their loved ones, but also for all health care professionals and researchers. William has our thanks and admiration."
The book is being published by Les Presses de l'Université de Montréal and will be available for purchase at www.portraitsofhope.ca.
On the Web:
Media contact:
William Raillant-Clark
International Press Attaché
Université de Montréal
Tel: 514 343-7593
w.raillant-clark@umontreal.ca
@uMontreal_News
For Mr. Brock
Caroline Senay
Davies Ward Phillips & Vineberg LLP
Tel: 514 841-6451
csenay@dwpv.com