Three major French universities sign historic partnership agreement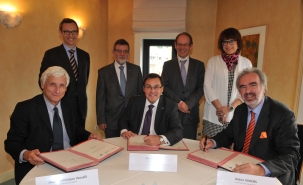 Three of the world's most prominent French-language universities – the Université de Montreal (UdeM), the Université libre de Bruxelles (ULB) and the Université de Génève – have decided to formally create a joint partnership with the goal of becoming an authoritative francophone reference worldwide. The agreement was signed this morning prior to an address by the Rector of UdeM to the Chamber of Commerce Canada-Belgium-Luxembourg.
The purpose of the agreement is to develop a partnership among leading French-language universities and is intended to enhance the quality of research and teaching at each of the partners through the benefits gained from their convergence of interests. The universities have also agreed to jointly develop activities that will generate maximum exposure for all three partners.
"Grouping our three institutions is entirely natural since we are considered the best general universities in the French-speaking world," said Dr. Guy Breton, Rector of UdeM. "A partnership like this will make it possible to provide all our students with diversified, high-quality instruction in every discipline."
For Professor Didier Viviers, Rector of ULB, "This agreement gives concrete form to the rich and varied links the three universities have maintained for many years both in teaching and in research. What makes this original is that we are going beyond the traditional bilateral agreements that universities regularly sign with foreign partners, to create a genuine tripartite alliance based on the areas of excellence of the three institutions."
"This new merger for excellence is based historically on actual collaboration and sets an example for the future, in which many more alliances of this type are quite likely to occur. The fact that our three institutions are French-speaking is proof that knowledge today can be created and disseminated multilingually, even at the highest level," said Jean-Dominique Vassalli, Rector of University of Geneva, .
The agreement will make it possible to create a space where teachers, researchers and students from the three universities can circulate freely, and where joint programs will be offered in post-graduate studies. Students from all three institutions will benefit from this agreement, as it will facilitate the organization of internships with companies and organizations in Quebec, Belgium and Switzerland.
Information:                                      
Mathieu Filion
Senior Media Relations Advisor                                                                        
Université de Montréal
+1 514-343-7704
m.filion.rivest@umontreal.ca