Filming disasters on our cell phones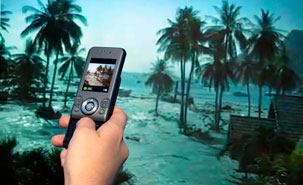 Kalle Widelius was a Swedish tourist on vacation in Ko Phi Phi Don, Thailand, on December 26, 2004. He was taking pictures of his partner, Sarah, while standing in the water at the beach, when a strong wave broke at their feet. Seeing the water rise, the couple ran away quickly to a building where they took refuge in the upper floors. In one uninterrupted seven-minute scene, the camera caught the historical tsunami in the Indian Ocean that caused more than 200,000 deaths in coastal cities.
For Richard Bégin, professor in the Department of Art History and Film Studies, the video, which has been viewed nearly 9.8 million times since it was posted online, is a turning point in the history of film. "It was during the 2004 tsunami that we could precisely gauge what using mobile devices integrated with digital cameras means for our modern visual culture," believes the professor and researcher, who recently received a $40,000 grant over two years from the Social Sciences and Humanities Research Council of Canada to study this "new aesthetics of the moving image," which he calls "mobilography."
For a film to be integrated into the database he is currently establishing with his colleagues, it must have been made using a mobile phone and depict a modern reality in fiction or documentary form. "When we analyze this filmmaking at a basic level, we discover that technique is less important than it was before. The images capture emotion instead of facts. This is a crucial element," he explains.
After all, twenty festivals around the world specialize in the presentation of short works shot using cell phones, called "pocket films." In these films, postproduction is minimal, often even absent, because scenes are stitched together with almost no editing. "We are very close to what the Lumière brothers did at the beginning of cinema," quips Bégin.
Mon topo and "happy slapping"
Having been a professor at Université de Montréal for one year now, Bégin was a lecturer at three universities for over a decade and completed two postdoctoral degrees in film studies. His academic field of interest is the representation of disasters and catastrophes on film, particularly in the post-apocalyptic imagination. It was during a seminar entitled "Disasters and visual culture: from analog to digital" in the winter of 2012, that the idea occurred to him to treat the ??images captured by smart phones as a research topic in itself.
The first priority is to methodically archive these films that reflect their era and a subjective point of view. To the uninitiated, this priority is not obvious. "There are many films that disappear almost as soon as they appear. It is important to put them together to form a scientific sampling," says the specialist. A painstaking task, given that, from their modest beginnings, video hosting sites have become giants on the Web. For example, YouTube, which began in 2005, has more than one billion subscribers. Every day two billion videos are viewed.
The second step for the researcher is to analyze production, which is particularly eclectic, ranging from highly entertaining to extremely dry. He will discuss the sociological aspect of the omnipresent and omnipotent camera, which the majority of Westerners have in their pocket and take out whenever they experience an important event.
Increasingly, broadcasters invite viewers to send in their most original productions. The result is shows like "Mon topo" on TVA Nouvelles. Posted at all times in strategic locations, mobile phone owners have thus become collaborator-witnesses for broadcast networks. The best images of the tsunami in Japan on March 11, 2011, were taken by survivors of the tragedy who turned their phones toward the behemoth in Camera mode. During the shooting at the Eaton Centre in Toronto on June 2, witnesses were able to transmit images of the panic that gripped the crowd. And protesters wearing red squares in Montreal last summer submitted countless images of the Maple Spring demonstrations.
There is a downside to all this, says Bégin. "The popularity of YouTube has given rise to such phenomena as 'happy slapping,' which consists of pummelling a passerby in front of a mini-camera for the sole pleasure of being popular on the Internet," he says. It is a paradox in which one performs a dramatic act that is illegal, glory-seeking..., yet anonymous.
All thanks to the "smart" phone...
Filming "without permission"
Tehran without permision, by Sepideh Farsi, owes its existence to this new kind of creative endeavour. In 2008, the young woman combed the streets of the Iranian capital filming numerous scenes on her cell phone. In the resulting 83-minute documentary, she interviews men and women of all ages, interspersing their dialogue with video clips taken on the fly. "Shots of bearded mullahs in the streets, taxis, bars... this impressionistic, protean portrait of Tehran reveals a schizophrenic city where the most archaic traditionalism coexists with the practices of modernity," wrote Télérama.
In a Web interview, the director said that the phone has a significant advantage over the traditional film camera. Interview subjects easily forget the phone and do not mistrust it, which opens the door to confidence and intimacy.
Again, the technical aspect, full of imperfections, loses its importance to the authenticity of the message. It would have been impossible for Sepidah Farsi to make such a film "with permission" in a country where Canadian photojournalist Zahra Kazemi was beaten to death in 2003.
In any case, we have not finished hearing about the work of Richard Bégin, who is writing a book about this new film aesthetic and who owns a smart phone. "Yes, I use it in camera mode. I love filming my children."
This text is a translation of an article originally published in French by Mathieu Robert Sauvé
Web