Two Banting Fellowships Awarded at IRIC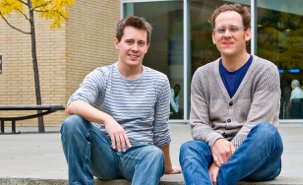 Last month, 70 Banting fellowships were awarded to elite postdoctoral researchers from across Canada and around the world, to provide them with the support needed to conduct world-class research. The scholarships will allow IRIC postdoctoral researchers Hugo Lavoie and Bernhard Lehnertz to pursue their innovative work in the field of cancer research. As Banting fellows, they will each receive $140,000 in funding over two years.
Hugo Lavoie is a postdoctoral researcher in the Intracellular Signalling research unit directed by Marc Therrien. By dissecting the cellular signals that cause the growth of human tumours, Hugo contributes directly to developing new and more effective anti-cancer therapies. His research aims to identify new, promising drug targets in the RAS/ERK signalling pathway which is often deregulated in cancer.
Bernhard Lehnertz is a postdoctoral researcher in the Molecular Genetics of Stem Cells research unit directed by Dr.Guy Sauvageau. Bernhard investigates the regulation of gene expression programs important for normal and cancerous stem cell function in the blood system. He focuses on regulatory genes which are frequently mutated in human leukemias and that organize DNA to ensure cell-type specific gene expression. His research aims to identify promising drug targets for the treatment of blood disorders like acute myeloid leukemia (AML).
Dr. Guy Sauvageau, IRIC Chief Executive Officer and Scientific Director, is proud of the recipients as well as the Institute's capacity to attract such young talent. « The Banting Postdoctoral Fellowships are Canada's most prestigious awards for postdoctoral researchers," he said, "We are therefore thrilled that not only one but two of our young scientists were able to distinguish themselves!"
On the Web :