UdeM researchers strengthen network of Asian theology students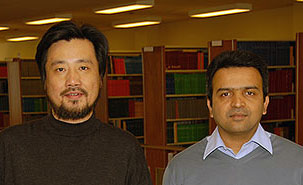 According to Paul Rajashekar, Academic Dean of the Lutheran Theological Seminary of Philadelphia, many people still believe that Asian students are only interested in science and mathematics. This is one of the reasons why, he says, that his school has created the Asian Theological Summer Institute, a summer school that will bring together Asian students and students of Asian background. The idea is counter bias and to create a network of researchers supported by a mentoring program.
Two students from Université de Montréal's Faculty of Theology and Religious Studies (FTRS) were selected to participate in this doctoral seminar: John Jomon Kalladanthiyi and Wei Wang. From May 27 to June 1, they will be invited to present their research to their peers and a group of visiting professors who will play the role of mentors.
John Jomon Kallandathiyi, who is involved in welcoming visitors at St. Joseph's Oratory, is a Ph.D. student under the supervision of the professor of practical theology Olivier Bauer. His thesis focuses on the transmission of Christian faith after Vatican II. He is particularly interested in Bhakti Hinduism and its influence on Hindus who attend Saint Joseph's Oratory on Mount Royal. Wei Wang is fascinated by the oldest Hebrew texts, discovered at Qumran, and works under the supervision of Jean Duhaime, a specialist in the Dead Sea Scrolls. Wang's research topic focuses on the messianic expectations in the Qumran scrolls. He seeks to identify the various conceptions of messianism that can be discerned from these texts to present a typology and contextualization. The study aims to better understand the community that produced this rich, ancient library.
Links:
·         Asian Theological Summer Institute
Source: Sylvain Campeau
Communications and Recruitment Consultant
sylvain.campeau@umontreal