UdeM Researchers Leading the Way in Genomics and Personalized Healthcare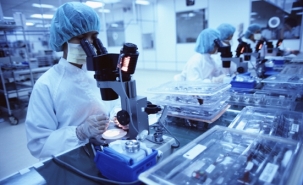 Researchers in the Université de Montréal (UdeM) network showcased their many talents at the latest genomics and personalized healthcare competition organized by Genome Canada and Genome Quebec. Five of the 17 projects selected in Canada are spearheaded by UdeM researchers, with two more of the projects chosen undertaken in partnership with UdeM researchers. As a group, researchers from the UdeM network were awarded $54.9 million in grants to implement research projects in genomics and personalized healthcare.
"Thanks to the advances made in genomics in recent years we are on the verge of a scientific revolution," said UdeM rector, Dr. Guy Breton. "And Université de Montréal researchers are helping ensure Quebec is a major player in these exciting developments. As a physician, I can't wait for this revolution to start. And as rector, I'm proud to see that our community is at the core of the revolution."
For Geneviève Tanguay, vice-rector of research, creation and innovation, the results of the competition attest to the strength of the UdeM network. "Most of the healthcare research conducted by the UdeM is performed in affiliated health centers," she said. "The network is a driving force behind our university and it has enabled us to raise the bar as far as excellence in research goes. Affiliated hospitals are the crucial part of our network, where our researchers can really demonstrate their leadership and drive."
Large-scale projects
UdeM-network projects funded by Genome Quebec and Genome Canada were awarded grants ranging from $9 to $13 million.
·         Dr. Guy Sauvageau of the Université de Montréal Institute for Research in Immunology and Cancer (IRIC) and Professor Josée Hébert of the Maisonneuve-Rosemont Hospital Research Centre (CR-HMR) are working on developing a more accurate prognosis test to help better manage patients with acute myeloid leukemia. This will make it possible to deliver better care for this particularly deadly form of cancer by providing physicians with more accurate diagnostic tools. This project is also being funded by the Cancer Stem Cell Consortium.
·         Dr. Claude Perreault of IRIC and Dr. Denis-Claude Roy of CR-HMR intend to revolutionize immunotherapy for blood-related cancers, such as leukemia, lymphoma and myeloma, which account for 10% of all cancers diagnosed across the country. The Canadian Institutes of Health Research (CIHR) are also funding this project.
·         Professor John Rioux and his team of the Montreal Heart Institute (MHI) will develop tests to enable physicians to determine with greater accuracy which drugs are better suited to each patient with inflammatory bowel disease. The Canadian Institutes of Health Research (CIHR) are providing support for this project as well.
·         Dr. Jean-Claude Tardif and Marie-Pierre Dubé of the MHI are working on developing pharmacogenomic testing that will have a major impact in diagnosing and treating heart diseases. Heart disease currently accounts for 35% of all deaths in Canada.
·         Dr. Patrick Cossette of the Université de Montréal Hospital Research Centre (CRCHUM), Dr. Jacques Michaud of the Sainte-Justine UHC Research Centre and Dr. Berge Minassian of Toronto Sick Kids are looking to develop a pharmacogenomic tool to help identify different types of epilepsy in order to speed up the diagnostic process and quickly decide on the best possible therapy.
For information:
Mathieu Filion
Senior Advisor, Media Relations
Université de Montréal
514-343-7704