IRICoR is proud to welcome Hôpital Maisonneuve-Rosemont as a New Academic Member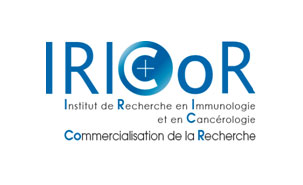 IRICoR  (Institute for Research in Immunology and Cancer – Commercialization of Research) is proud to announce that Hôpital Maisonneuve-Rosemont (HMR) has recently become an Academic Member of the Centre, which represents the achievement of an official alliance between the two entities. Through this agreement, HMR becomes IRICoR's second academic member after Université de Montréal (UdeM).
"Through the Centres of Excellence for Commercialization and Research (CECR) program funded by the Federal Government, Université de Montréal launched a key cutting-edge initiative in Drug Discovery by creating IRICoR in 2007", says Dr Joseph Hubert Vice-Rector of Major Academic Projects.
"Since IRICoR's early years, HMR has always been a  key affiliate both for its status as a reference center in Hematology-Oncology and for a number of its Clinical Researchers who are also Principal Investigators and Associate Investigators of the Institute for Research in Immunology and Cancer (IRIC) at UdeM", says Dr Michel Bouvier, President and Chief Executive Officer at IRICoR.
"We welcome this official alliance between HMR and IRICoR with great enthousiasm", says Mrs Manon Boily, Chief Executive Officer of HMR. Mrs Boily continues "our value chains will undoubtedly continue to be complementary in as much as HMR is already closely collaborating with UdeM/IRIC/IRICoR for the development of novel therapies in Leukemia through our Centre of Excellence for Cellular Therapy (CETC)".
About IRICoR | Institute for Research in Immunology and Cancer – Commercialization of Research
IRICoR is a non-profit organization focused on commercialization of promising research projects that originate from the Institute for Research in Immunology and Research (IRIC), Université de Montréal (UdeM) and affiliated/collaborating institutions. IRICoR's mission, as a Center of Excellence in Commercialization and Research focused on drug discovery, is to accelerate discovery and commercialization of highly innovative therapies in oncology, immunology and related diseases. IRICoR invests in and managesbuoyant projects to rapidly transition them from academia to the market, while identifying the best strategic partners for these commercially-promising projects. For more information about IRICoR, please visit: www.iricor.ca.
About Maisonneuve-Rosemont Hospital
Maisonneuve-Rosemont Hospital (HMR), affiliated to Université de Montréal, is an important institution wherein health care, teaching and medical research have converged since 1954. Its 5 500 employees and physicians, and 500 volunteers work with the whole population on Montreal's East side and beyond since the hospital covers the region and the supraregion. HMR houses a leading research center with both national and international recognition. The Center specializes in four main areas: immuno-oncology, eye health, nephrology and cellular therapy. Each year, HMR welcomes more than 4 000 students, future physicians, nurses and health professionals. For more information on HMR, please visit: www.maisonneuve-rosemont.org.
For more information on the Center of Excellence in Cellular Therapy, please visit : recherche.maisonneuve-rosemont.org/fr-ca/la-recherche/axes-de-recherche/immuno-oncologie/centre-dexcellence-en-therapie-cellulaire.html
Source :
Sylvia Provost
Communications - Director, Public Affairs and Development
Hôpital Maisonneuve-Rosemont
514 252-3451
Information :
Steven Klein, PhD, MBA
Director, Business Development
IRICoR
514 343-6647