Dr. Marc Therrien becomes the Scientific Director of IRIC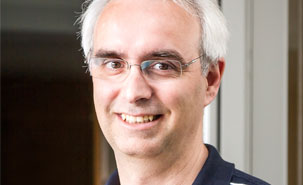 The Direction of IRIC is pleased to announce the appointment of Professor Marc Therrien as Scientific Director of the Institute.
On Tuesday June 18, the University Council approved the recommendation of the Board of Directors of IRIC for this key position. Professor Therrien becomes the second Scientific Director of IRIC's history. He replaces in this position Dr. Guy Sauvageau, founding Scientific Director of the Institute, as well as its CEO since 2007.
Marc Therrien is a Principal Investigator and a founding member of IRIC. He is also Full Professor in the Department of Pathology and Cell Biology in the Faculty of Medicine at Université de Montréal and holds the Canada Research Chair in Intracellular Signalling. He was until today Deputy Director-Scientific Affairs of IRIC and as such was already a member of the Executive Committee of the Institute.
Professor Therrien received his Ph.D. in biochemistry from the Université de Montréal in 1993 and completed a postdoctoral fellowship at the University of California at Berkeley from 1993 to 1998. He was subsequently investigator at the Montreal Clinical Research Institute of (IRCM) before joining IRIC at the time of its foundation in 2003. At IRIC, Marc Therrien and his team study the signaling mechanisms involved in cell proliferation and differentiation and in particular those of the intracellular signaling pathway Ras/MAPK. The disruption of these mechanisms is the basis of many cancers. This research has already led to the identification of new therapeutic targets and opened new avenues of research in the treatment of cancer.
As Scientific Director, Marc Therrien will be responsible for implementing the strategic research plan and the scientific program of the Institute. He will coordinate the development of large research infrastructures, including major funding requests from granting agencies. He will also coordinate the recruitment of Principal Investigators whose scientific profiles will contribute to the achievement of IRIC' objectives and will support investigators in the development of their academic career.
It is with great pleasure that we welcome Dr. Therrien as Scientific Director. We wish him every success in his new task. We are confident that he will build on the excellence of IRIC and help its outstanding reputation grow on the national and international scene.
Source : IRIC
On the Web