Quebec government announces $173.4 million funding for construction of Université de Montréal Science Complex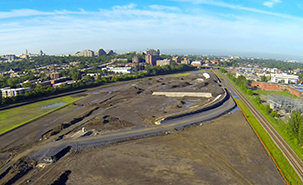 Quebec Premier Pauline Marois, together with the Minister of Higher Education, Research, Science and Technology, Pierre Duchesne, and the Minister of International Relations, La Francophonie and External Trade and Minister Responsible for the Montreal Region, Jean-François Lisée, is pleased to announce that $173.4 million in funding has been set aside by her government for construction of the future Science Complex on the Université de Montréal site in Outremont.
"Investment in teaching, research and innovation is an investment in our future. Investment in our young people, students and researchers is an investment in this amazing capacity we have to be original, create and push the limits of knowledge," the premier said.
Besides a 44,512-square-metre science pavilion, the project includes plans for future construction of a lecture and classroom pavilion, a library and a parking facility. Four science departments (chemistry, physics, biology and geography) will be housed in the new complex, and its construction over a three-year period will generate more than 4600 jobs. The complete plan for the campus also includes residential units, four parks and a tree-lined esplanade.
"The Science Complex is the largest infrastructure project we've ever funded for higher education. As this major investment clearly indicates, the government has made a firm decision to support North America's largest Francophone university, and this highly advanced scientific teaching and research infrastructure is sure to enhance Quebec's image on the international scene," Pierre Duchesne said.
The total estimated cost of the project is $350 million, half of which will come from the Quebec government. An allocation of $173.4 million has already been set aside for this in the 2013–2014 Quebec Infrastructure Plan. Of this amount, $92.3 million will go for teaching areas and $81.1 million for research space. As mentioned above, this is the largest amount ever invested by the government for a building dedicated to higher education and university-level research.
"This project, which we're working on with diligence and enthusiasm, is now moving ahead in cooperation with many partners, the Government of Quebec first and foremost. Members of our community will soon be able to benefit from classrooms, laboratories and living spaces specifically designed to advance their training and work in scientific research. And by the way, our scientists are among the finest in their respective fields, and quite often in the entire world. We're hoping to give them the sort of space where they can continue to exercise their talents," said Université de Montréal rector, Guy Breton.
In accordance with the provisions of the Quebec government's policy framework governing major public infrastructure projects, which requires a rigorous process to ensure optimal control of costs and schedules, UdeM recently submitted its initial business plan to the Ministry of Higher Education, Research, Science and Technology. Construction of the Science Complex will begin in the fall of 2015.
"Montreal is increasingly being recognized around the world as capital of knowledge and creativity," Jean-François Lisée said. "With this new hub for innovation, which will have the benefit of up-to-date infrastructure, we'll be building on the strengths that our great city is known for."
The site of the Université de Montréal Science Complex is located at the junction of four major districts: Outremont, Park Extension, Mile End and the Town of Mount Royal. Site rehabilitation, financed under the Building Canada–Quebec Program, began in spring 2012 and ended this summer. Decontamination work was completed on schedule and on budget, and the site is now ready for its new buildings, parks and residential area.
– 30 –
Sources:
Marie Barrette
Press Attachée
Office of the Premier
418-643-5321
Joël Bouchard
Press Attaché
Office of the Minister of Higher Education,
Research, Science and Technology
418-266-1166
Christine Fréchette
Press Attachée
Office of the Minister of International
Relations, la Francophonie and External
Trade and Minister Responsible for the Montreal Region
418-649-2319
Julie Gazaille
Press Attachée
Université de Montréal
514-343-6796
Information:
Linda Bergeron
Media Relations
Ministry of Higher Education, Research, Science and Technology
418-646-4508, extension 2922