Université de Montréal ranks among top 100 universities worldwide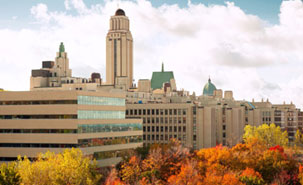 Université de Montréal has placed 92nd in the QS World University Rankings released today. This new result for the university is 22 positions higher than its ranking last year and 45 higher than two years ago. Université de Montréal remains one of the highest-ranking French-language universities worldwide.
"Université de Montréal continues to stand out, earning world-class recognition for excellence" said Rector Guy Breton. "Our teachers, researchers, students and staff all contribute to our growing reputation, and I would like thank them most sincerely."
This ranking is one of several, including the Sea Turtle Index published this summer by The Economist, which also ranked Montreal in the forefront among university cities worldwide. "The high quality of Montreal's universities contributes to our metropolitan area's overall attractiveness around the world," Breton said. "And Université de Montréal, more so than ever, is a great Montreal university we can all be proud of."
In addition to its outstanding results in the overall ranking, the university also improved its position in the five academic discipline categories ranked by QS. In the Arts and Humanities category, Université de Montréal rose a spectacular 63 places to 77th position. In Life Sciences and Medicine, it rose 45 places to rank 87th. In Social Sciences and Management, the university now ranks 70th, an increase of 22 positions.
Media information:
Mathieu Filion
Senior Advisor, Media Relations
Université de Montréal
514-343-7704