From Université de Montréal to the Met
09/16/2013

Dominique Nancy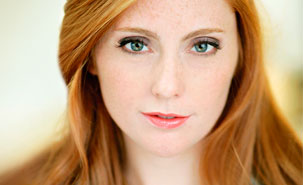 Canadian soprano Layla Claire has so many commitments that she'll be homeless until 2017. "I can't complain, this is my dream come true!" said the Université de Montréal graduate, who obtained her bachelor's degree (2003) and master's degree (2005) under the supervision of Professor Catherine Sevigny.
Ever since the New York Times praised her interpretation of Mozart arias and described her voice as "pure light," opera companies in North America and Europe have been fighting over her.
The striking redhead came to prominence six years ago playing the roles of Fiordiligi in Mozart's Così fan tutte, Donna Anna in Don Giovanni, under the baton of Maestro James Levine at the Tanglewood Festival (USA), and Donna Elvira and Susanna in The Marriage of Figaro, presented in 2009 by the Curtis Opera Theater with Palm Beach Opera.
In July, at the Orford Festival, the young singer of 30 years presented her first real recital in Quebec since her professional début. "She was magnificent. Her voice is emotionally charged and can be sensual or sad with true conviction. I had chills," says, Madelaine Bédard, Director of Public Affairs at Université de Montréal's Faculty of Music, who attended the concert.
For her Orford performance, the soprano received the prestigious Virginia Parker Prize from the Canada Council for the Arts, valued at $25,000, awarded to Canadian music performers under the age of 32 who demonstrate outstanding talent and musicianship.
From Penticton to New York, via Montreal
While Layla Claire now leads a brilliant international career, it all began in Montreal. When deciding on a university program, the young 18-year-old woman from Penticton, B.C., chose Université de Montréal. "I wanted to learn French, and I'd heard a lot of good things about the Faculty of Music. I spent six years there," she said in excellent French in a telephone interview with Forum.
The conductor and artistic director of the Orchestre de l'Université de Montréal (OUM), Jean-François Rivest, remembers her in the landmark role of Susanna, the Countess's maid, in The Marriage of Figaro. The opera in two acts by Mozart was presented at the Salle Claude-Champagne by the Atelier opera and the OUM in 2005 under the musical direction of Rivest, and directed by Benoît Brière.
"Layla had a wonderful stage presence and a voice of rare beauty, but still green. During the final dress rehearsal, I saw her mature before me and spread her wings, which must have been 10 metres wide! I almost fell out of my seat," said Rivest. "She continues to move me with the depth of her voice and her personality."
As for Layla, she has fond memories of her time at Université de Montréal, where she relished the classes of Catherine Sévigny. "I owe my vocal technique to her," she noted. "And for giving me the greatest lesson of all, having confidence in myself. Before each performance, she always told me: 'Go with confidence!' I still repeat these words to myself before going on stage."
Regarding the Atelier d'opéra and the OUM she said: "Thanks to them I was able to have my first experience on stage with real costumes and sets. It was an incredible and rare opportunity for a young opera singer. It was this experience, in fact, that confirmed my aspirations."
Her commanding presence, her strong acting abilities, and the broad range of her voice might suggest a diva temperament off stage. Not so. As a child, she played with boys (she has four brothers), climbed trees, swam in the lake near the family home, and played field hockey. "I was a real tomboy," she admitted.
She's quite the opposite of an intolerable diva. "She is calm, warm, and incredibly nice," said Madelaine Bédard, who knew her when she was at university. "Layla worked as an usher during concerts at the Salle Claude-Champagne. She was always friendly and polite with everyone."
Soprano on the go
When she was young, she sang in a children's choir. "I sang all the time. It bothered my brothers." When Layla was a teenager, the choir director encouraged her to take lessons. At that point, she had no idea she was destined for classical singing. "I admired pop singers, and I dreamt of being one, but I also liked the theatre. When I discovered opera, it was a revelation. I could combine music and theatre."
The flame-haired soprano has never forgotten her first contact with the stage. It was in Okanagan, near her hometown. "I was 17, and I was playing Giannetta in Donizetti's opera L'Elisir d'Amore. I knew at that moment that this was my calling. But I doubted my abilities."
Thirteen years later, Layla played the same role at New York's Metropolitan Opera (MET) with artists the likes of Diana Damrau, Juan Diego Florez, and Mariusz Kwiecien. The critics raved.
The hard-working soprano thrives on challenges. After her studies at Université de Montréal, she was accepted at the Curtis Institute of Music in Philadelphia, where she completed her master's degree in opera. The following years were like a fairy tale. First, in 2007, she sang at Tanglewood Festival. Then, in 2009, she was selected to participate in the Young Artist Development Program at the Metropolitan Opera. "I stayed there for three years and had the opportunity to sing in several productions at the Met, including The Enchanted Island, a pastiche of Baroque music by Handel, Vivaldi, Lully, and others."
A DVD of this production, available via Virgin Records, shows a 5'8" woman of exceptional talent. She literally lights up the stage with her presence. This polyglot who speaks four languages ??(besides English and French, she is also fluent in Italian and German) has received numerous awards, including the Hildegard Behrens Foundation Award in 2010 and the Mozart Prize, awarded two years earlier as part of the Wilhelm Stenhammar International Music Competition.
Over the past two years, the tireless soprano has performed in a string of productions that would leave other breathless: Handel's Messiah with the New York Philharmonic Orchestra, Mahler's Symphony No. 2 with the Boston Symphony Orchestra, Beethoven's Ninth with the Russian National Orchestra, to name a few. She also sang at the Glyndebourne Opera Festival in England and the Aix-en-Provence Festival in France.
In her spare time, she enjoys yoga and the outdoors and says she finds inspiration in nature and the mountains of Penticton. "I jog in every city I sing in. It's a great way to visit and to discover the sights."
Source
This document is a translation from an article originally published in French by Dominique Nancy, Université de Montréal.
Media contact at Université de Montréal:
William Raillant-Clark, Press Attaché, 514-343-7593, w.raillant-clark@umontreal.ca