IRIC in Brazil: Cutting-edge training on cancer research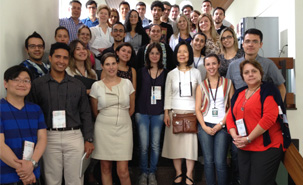 The first edition of the International Summer School of the Institute for Research in Immunology and Cancer (IRIC) of the Université de Montréal (UdeM) took place in Brazil, as part of a cutting-edge training on cancer held in São Paulo and Botu-Catu on April 22-29, 2014. Carried out in close cooperation with the Faculty of Medicine of Universidade Estadual Paulista (UNESP) and the Cancer Research Centre of the A.C.Camargo Hospital, the School is intended for the best students of both institutions interested in studying cancer systems biology.
Six research scientists from IRIC and professors at Université de Montréal joined research professors from UNESP/A.C.Camargo to establish this international program. More specifically, the training gave students a better understanding of the contribution of genetics to different biological systems and different types of cancers.
Moreover, the seven best students among the 30 summer school participants are invited to join the 2014 IRIC Summer School on the campus of Université de Montréal to attend practical training courses in systems biology at the laboratories and technology platforms of the Institute.
"In this age of emerging technologies and new multidisciplinary approach to studying and treating cancer as a whole, IRIC Summer School provides the next generation of scientists with a unique curriculum combining theoretical and practical training on cancer research. This international experience has been a great success with Brazilian students and professors who welcomed with great enthusiasm this new educational initiative from Université de Montréal's professors. This first edition will be followed by the establishment of more summer schools in 2015," says Trang Hoang, Principal Investigator at IRIC and Full Professor in the Department of Pharmacology of Université de Montréal.
IRIC's International Summer School is based on a model created in 2005 by the Institute as part of its M.Sc. program in Molecular Biology, Systems Biology option. To date, over 140 students have availed themselves of this training, which will accelerate the discovery of new drugs and therapies to treat cancer.
This project is supported financially by the Office of International Relations of Université de Montréal, Québec's Ministère des Relations internationales et de la Francophonie and IRIC. On the Brazilian side, the initiative is funded by the São Paulo Research Foundation (FAPESP), the Cancer Research Centre of the A.C.Camargo Hospital, the Medical Faculty of UNESP and the Conselho Nacional de Desenvolvimento Cientifico e Tecnológic.
About the Institute for Research in Immunology and Cancer
An ultra-modern research hub and training centre located in the heart of the Université de Montreal, the Institute for Research in Immunology and Cancer (IRIC) was created in 2003 to shed light on the mechanisms of cancer and discover new, more effective therapies to counter this disease. IRIC operates according to a model that is unique in Canada. Its innovative approach to research has already led to discoveries that will, over the coming years, have a significant impact on the fight against cancer. For more information: www.iric.ca
Information:
Manon Pepin
Communications and Media Relations Director
Institute for Research in Immunology and Cancer
IRIC Université de Montréal
(514) 343-7283
manon.pepin@umontreal.ca