Veterinary students treat street youth pets
Le 29 novembre 2013

Paule Des Rivières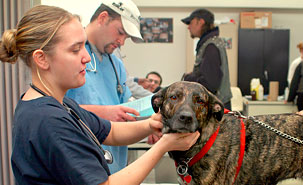 Treating animals owned by street youth is now formally incorporated into the training of future veterinarians: all veterinary students must do the rounds at Father Emmett "Pops" Johns's trailer.

Founded 13 years ago, the Clinique des animaux des jeunes de la rue organized by Université de Montréal's Faculty of Veterinary Medicine quickly attracted students eager to participate. "Students are given a lesson in life," says the project sponsor, Dr. Diane Blais. Each month, a team of third-year students from the faculty, a student in animal health technology from CEGEP Saint-Hyacinthe, and a veterinarian set up in the facilities next to Father Emmett Johns's trailer on Ontario St. to care for street youth pets.

"In the summer of 2000, we received a call from Pops: he was concerned about the death of several dogs struck, it was learned later, by parvovirus," said Blais. The unscheduled consultation eventually turned into a veritable commitment, and the number of animals examined has increased from 15 to often more than 30 per visit. The teams—numbering eight for as many examination tables—perform exams and vaccinations and treat parasites, skin and ear diseases, and other common pet ailments.
At first, Father Johns advised the students and veterinarians not to talk about sterilizing the animals, since street youth sell the litters of their pets. But today, the subject is no longer taboo, and the team is able to direct the youth to veterinarians sensitive to the plight of street animals and what they mean to their owners. "Everyone's on board," said a pleased Blais. "For example, Pfizer give us medicine and Mondou gives us food."
"Dogs, cats, rats, even rabbits, they're like blankets; they're protection for young squatters. Often it's what's most important to them," said Blais, whose husband and daughter are both veterinarians. Her husband has long been a volunteer at the clinic and her daughter has just taken responsibility for the 12 consultations of 2013-2014.
"For the Faculty, it's a cause," says Blais. "We get closer to street youth with our common passion for animals."
This text is a translation of an article originally published in French by Paule des Rivières