Celebrity Designer in Wonderland
09/04/2013

Marie Lambert-Chan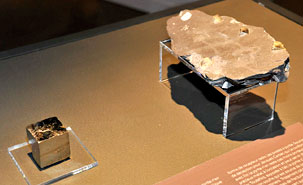 "It's absolutely fabulous! It's wonderful!" said celebrity designer Michel Dallaire over and over again as he visited the exhibition Mont et merveilles at the Centre d'exposition of the Université de Montréal for the first time. The exhibition includes 300 objects, works of art, specimens, artefacts, and documents from seven collections of the UdeM, HEC Montréal, and Polytechnique Montréal. It is an eclectic and fascinating universe in which an old typewriter, works of some of Quebec's greatest artists, a musical instrument made ??of beer caps, precious minerals, and a dentist's chair dating from the 19th century are brought together.
Nearly a year ago, the Centre d'exposition offered a unique opportunity to Dallaire: explore the richness and diversity of these collections and choose seven of his favourite objects. "It can be a daunting task to express one's preferences outside of one's own area," he admits. "I let my values and knowledge take over, in other words, design, architecture, and the function and essence of objects. For example, I was fascinated by the carnivorous flower of the pitcher plant taken from the Marie-Victorin Herbarium. I know nothing about botany, but I was drawn by the design of this plant. It has long tubes that attract insects that, once inside, can't get out. It's an extremely well-designed trap."
According to Louise Grenier, director of the Centre d'exposition, Michel Dallaire's curiosity, sensitivity, and creativity make him the perfect guest curator for such an event. "His incredible career and his enthusiasm for everything he discovers have impressed me for a long time, she says. Who better than he to take a fresh yet well-informed look at these objects?"
The presence of the designer is not the only common thread connecting the objects chosen by the curators of these collections—each containing hundreds, if not thousands of objects. "We also want to develop their links with teaching and research, since they are still used in the context of one or the other of these activities," says Grenier. It is also an opportunity to provide an overview of the remarkable shared heritage preserved by Université de Montréal and its affiliated schools.
Unknown encyclopedic wealth
The exhibition provides an opportunity to discover treasures unfortunately unknown to the general public and even the academic community, such as those from the Geological Engineering Collection of Polytechnique Montréal, of which Dallaire's favourite object is a shining example: an almost perfect cube of pyrite. "No human carved that stone. It is the work of nature. Amazing, isn't it?" says Dallaire, who chose the piece because it reminded him of the work of Charles Daudelin. "When I held it in my hands, I said: 'It's a true Daudelin!'"
It is hardly surprising, then, that the designer selected a sculpture by the same artist when he visited the UdeM Art Collection. Entitled L'infini se joue, the brass sculpture is made of reflecting surfaces facing each other.
Dallaire's choice reveals his attraction for the beauty of objects, and the simplicity and efficiency of their design. From the Institutional and Private Archives of HEC Montréal, he selected a nearly century-old Hammond typewriter. He fell in love with a harp-zither from the World Musical Instrument Collection of the Ethnomusicology and Organology Laboratory. When he examined the the Musée Eudore-Dubeau Dentistry Collection, his eye was drawn to a strange foot pedal used to manually operate a burr drill.
From the Ethnographic Objects Collection of the Department of Anthropology he chose a grinding stone and a ladle made of a piece of birch bark rolled up onto itself and held together by a spruce branch. "As an industrial designer, if I were stuck in the woods and had to serve soup, I couldn't have made a better ladle. This is true design!" he says.
The exhibition Mont et merveilles continues until December 8 at the Centre d'exposition located in the Faculté de l'aménagement building at Université de Montréal.
This article is a translation from a document originally published in French by Marie Lambert-Chan