Joanne Liu: doctor without borders
09/04/2013

Mathieu-Robert Sauvé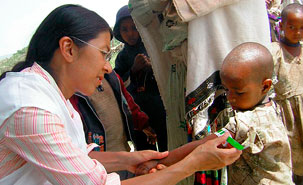 Joanne Liu, a pediatric emergency physician at Université de Montréal affiliated CHU Sainte-Justine and a professor at our Department of Pediatrics, was elected president of Médecins Sans Frontières (MSF) International on June 28. MSF is one of the largest humanitarian organizations in the world and her three-year term at the headquarters in Geneva will begin in October. This is the second time in the organization's 43-year history that a Canadian will hold this position.
More than a career, a passion
Originally from Quebec City, where her father owned the China Garden restaurant, Liu moved to Montreal in the 1980s to complete her MD at McGill University. Before the age of 20, she had already gained international experience working with the organizations Katimavik and Canadian Crossroads International. Once becoming a doctor, she treated patients in the Far North and New Brunswick, "wherever physicians were needed." I chose medicine with a specific goal in mind: to work overseas with the neediest." Pediatrics, which is especially useful in crisis areas, was a logical extension for Liu, who also trained in pediatric emergency for two years at New York's Bellevue Hospital, which is known for its clientele from disadvantaged backgrounds.
Since then, Liu has taken part in 20 missions on four continents. Among her recent contributions is the launch of a worldwide humanitarian telemedicine network. Through this network, a doctor treating a patient in Congo can have immediate clinical advice from a hematology specialist at the University of Toronto or London, for example.
For Dr. Liu, it is unacceptable that in 2013 people are still dying of dehydration, hunger, and measles. "There are diseases relatively easy to cure with the adequate staff and equipment."
New challenges
Never tiring of working directly with patients during more than 20 years of humanitarian commitments, Dr. Liu wishes to serve the cause in another way. After completing numerous field assignments as physician and then head of mission, she worked as operational programmes manager for MSF in Paris from 1999 to 2002. She then served as president of MSF-Canada from 2004 to 2009.
For her new mandate, which will keep her away from Montreal emergency rooms, Dr. Liu has received the support of the University of Montreal and Ste-Justine Hospital. She will not give up her university duties, however, since she has introduced the idea of an international humanitarian chair that she will develop over the next few years. "I think the University of Montreal can play leading role on the international stage, and this is one way to do it."
This article was translated in to English from a text originally published in French by Mathieu-Robert Sauvé
A portrait of Dr. Liu will be published in the autumn issue of Les diplômés.