University's building management service helps build bat "condo"
10/16/2013

Mathieu-Robert Sauvé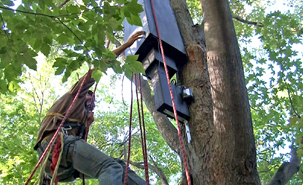 Bats make their home in the Université de Montréal woods, and this year they'll have a heated shelter to help them survive the winter.
Bats make their home in the Université de Montréal woods, and this year they'll have a heated shelter to help them survive the winter.
"During hibernation, these small mammals must conserve energy. It is believed they can wake up only once per winter without their lethargic state being disturbed. However, a parasite from Europe keeps them awake and threatens their survival," says Alexandre Beaudoin, the university's Biodiversity Advisor.
After obtaining plans from a Sherbrooke engineering firm for a shelter specifically designed for the winged creatures, he crafted a cone-shaped roost powered from a nearby lamppost. A heated wall, similar to the floor of a reptile cage, keeps the colony warm. Around a hundred bats can take refuge there. The Direction des immeubles helped install the shelter in the wooded area in front of the U-wing of the Roger-Gaudry Building on September 19.
"We have been working for several years on enhancing and protecting biodiversity on campus, and this initiative is part of a development plan for plant and animal habitats. Last year, we began installing bluebird nesting boxes around student residences, and they have worked quite well," says Stéphane Béranger, Sustainable Development Coordinator. On October 4, as part of BioBlitz, he organized a night walk so that participants could hear the ultrasound emitted by the bats in flight.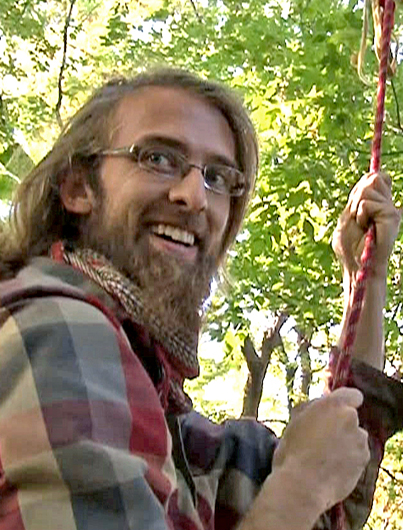 We know that five of the eight species of bats present in Quebec have been observed in Montreal. The most common is the small brown bat (Myotis lucifugus) and the large brown bat (Eptesicus fuscus). Both are threatened by a parasitic fungus that grows around the muzzle. With disastrous effects, the infection can decimate an entire population in a few years. Last July, Quebec's Ministère du Développement durable, de l'Environnement, de la Faune et des Parcs issued a bulletin warning about the "alarming situation" of bats, especially small brown bats, whose numbers have declined by 90% in three years. It has asked the public to locate bat maternity roosts, where females nurse their young. "To date, white-nose syndrome has caused the death of about 5.7 to 6.7 million bats in eastern North America, including 22 U.S. states and five Canadian provinces," says the bulletin. In Quebec, the numbers are just as alarming. Many mines and caves that sheltered colonies of thousands of bats in the winter have been affected. Today, there are usually less than thirty bats per site, and, in some cases, they have completely disappeared.
On Université de Montréal's property, it is increasingly difficult for bats to find places to spend long periods of time, hence the idea of creating shelters tailored to their needs.
Beaudoin says we have to be patient before being able to evaluate the results of this intervention. It may take several years before seeing whether a colony has adopted the site.

This text is a translation of a document originally published in French by Mathieu-Robert Sauvé