The "boys' club": male socializing to fight against mood disorders
11/13/2013

Martin LaSalle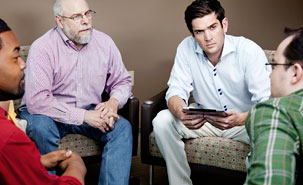 Men are less likely than women to use health services and social services for mental health problems, and they are three to four times more likely to commit suicide. Moreover, 80% of suicides in Quebec are men.
With the view of promoting aid relationships among these men to better meet their needs, François-Michel Labrie undertook his master's degree in social work through a 30-week internship. His project was to develop a group intervention plan for men with mood disorders.
His intership was conducted in the area of medical and psychiatric care with the Anxiety and Mood Disorder Outpatient Services of the Institut universitaire en santé mentale de Montréal (IUSMM), affiliated with Université de Montréal.
The challenge was complicated by the fact that participants had to meet two specific selection criteria: a diagnosis of mood disorder and resistance to group interventions.
Labrie was indeed well served in terms of resistance: two weeks before the start of the group sessions, only two of the seven participants had confirmed their attendance!
Nevertheless, all participants attended the first of the six sessions that made up the intervention.
Overcoming shame and breaking the isolation
The intervention aimed specifically to break the subjects' isolation to reduce their sense of shame by enhancing their sense of competence and normalizing their difficulties and treatments while promoting awareness and self-esteem.
Despite their difficult life experiences, five of the seven men completed the trial to the end.
The group was composed of men aged 32-77, most suffering from bipolar disorder. One participant was in a couple relationship, while the others were single and lived mostly in isolation.
Labrie led the sessions, facilitating the exchanges and allowing each participant to speak. He kept discussions on track when they digressed from the topic at hand, which occurred more than once...  At the end of each meeting, he took stock of the discussions, highlighting the most important points to retain.
Feeling useful while helping one's peers
After six sessions, most subjects said they felt a greater sense of engagement and a willingness to act.
In terms of isolation, the men unanimously "felt less alone in their difficulties," said Labrie. "Two of the participants even developed a relationship outside the group."
Furthermore, although they struggled to engage in activities of introspection and self-knowledge, the men showed great compassion and caring towards each other.
For example, during one session, one participant who was eager to succeed announced he was going for a job interview.  At the next session, he did not show up. When he returned, he justified his absence by the shame he had felt in not getting the job.
"Throughout this meeting and those that followed, a certain cohesiveness developed in the group," said Labrie. "This helped bring out the qualities and strengths that were underestimated in each participant, thus reducing the stigma associated with mood disorders."
"Subsequently, all the participants encouraged each other and had the feeling of being useful, of helping others and being helped in return," said Labrie.
Changing approaches in psychiatry
According to Labrie, the trial conducted in a structured and professional setting such as the IUSMM allowed nursing staff, in particular, to reflect on the benefits that social work can bring to psychiatry.
"Through its values ??and methods, social work can contribute to patient recovery," he said. "The participants greatly appreciated the intervention over the weeks, while clinical programming committee members agreed that the stigma carried by subjects should be a central element in future programming of consulting services."
Group intervention as a preventive approach
Labrie would also like his approach tested in a CLSC (Quebec community healthcare centre) with men making their first referral. "Perhaps this type of intervention would more effectively help people struggling with mood disorders and prevent their stays in psychiatric institutions," he said.
A major aspect of the project, said Labrie, is the importance of the social determinants of mental health in individuals, especially those who identify with the macho model or traditional male role.
"Stigma and the feeling of deviance and marginality are not biological," he noted. "It would have been difficult to highlight the importance of these social phenomena restricting ourselves to the usual intervention methods employed at the IUSMM."
According to him, social workers in psychiatric settings should work towards promoting the uniqueness and value of the group approach.
"Social workers are not merely companions in psychiatric therapies," said Labrie, who will soon be a member of the Ordre des travailleurs sociaux du Québec. "The care they provide is equally important, and this work should be shared as part of a multidisciplinary approach."
This text is a translation of a document originally published in French by Martin LaSalle