600 volunteers in humanitarian and community service
11/29/2013

Mathieu-Robert Sauvé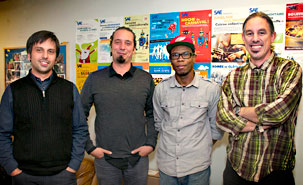 We see them working at bazaars, Intercultural Week, Nutrition Month, and Suicide Prevention Week, answering questions and helping community members struggling with various difficulties. Yet most of them work in the shadows. They are the 600 or so volunteers of Université de Montréal's Action humanitaire et communautaure (AHC), who come from all walks of life.

In collaboration with nutritionists from the Centre de santé et de consultation psychologique, the AHC has a diet component that "celebrates the pleasures of the table" to encourage students to adopt good eating habits. The AHC promotes integration with the Passerelle programme for new students (last year there were 163 sponsors and 365 sponsored students), encourages cultural exchange through Intercultural Week, and helps students with financial problems. For the latter, the Grand Bazaar, the Student-Family Programme, and the Christmas Basket Campaign (see insert) provide relief to those with material hardships. In the psychosocial realm, the Kiosque écoute-référence helps prevent mental health problems such as anxiety, suicide, harassment, and eating disorders. International solidarity and cooperation are not overlooked, since for over 25 years, the Atelier Nord-Sud has educated the university community to the challenges of globalization. Finally, the AHC encourages student initiatives through its Maison de la solidarité, which each year houses 15-20 interest groups.
Professional experience
The 20 unionized students who make up the AHC team are mandated at the beginning of the year and are responsible for their own projects. They coordinate volunteer teams, establish timelines, and carry out objectives. "We provide a work environment for developing professional autonomy. It is an important aspect of community development. Whether working as staff, volunteers, or both, students involved with the AHC are provided with a framework for testing their professional skills and exercising leadership—a valuable experience during their studies and a sure asset for future employment."
This text is a translation of an article originally published in French by Mathieu-Robert Sauvé