An optometrist among the Inuit
11/29/2013

Dominique Nancy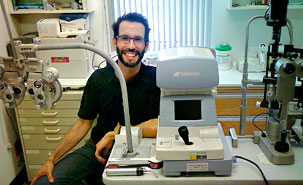 While working for five years as a clinical instructor at Université de Montréal's School of Optometry at the, Benoit Tousignant made a decision that marked a turning point in his career: he went to Nunavik to provide care for the Inuit population. "I've always been interested in social service. I've made several humanitarian trips to Peru, Mexico, and Haiti with the organization IRIS Mundial. I have also participated in the development of an eye care training program for nurses in Papua New Guinea and optometrists in Vietnam," said Tousignant.

His experience in the Far North with Donnelly Optical has confirmed his desire to focus his practice on community service. In the four villages on the shores of Ungava Bay and Hudson Bay, where he has travelled several times to provide eye exams, the needs are enormous. "Our efforts can affect the lives of others," he said, "but the benefits are still few for the local population. Since we can only go there once or twice a year, some people, including many children, have eye problems that are diagnosed late and can have serious impact on their development and learning."
Culture shock is also significant. A young white North American arriving in a region where life expectancy is 15 years less than ours soon realizes how fortunate he is. "Let's say that it puts things in perspective, and you at least learn to make do with the little things in life." Not only is their relationship with mortality different, but also their notion of time. "People can arrive three hours late for an appointment. Sometimes they come without one. We try to meet everyone's needs. The days are long. But nobody complains in the waiting room."
Treating criminals
Today, he continues his involvement with various communities, in particular, through the organization IRIS Mundial. He has worked with their administration, helping to train human resources in eye care in developing countries. He also provides care to inmates of La Macaza prison, north of Mont-Tremblant, and the three maximum security correctional services of Sainte-Anne-des-Plaines, where criminals such as members of organized crime and drug traffickers are imprisoned. Finally, he spends time with residents of nursing and long-term care homes.
"This is a marginalized and disadvantaged clientele. I believe everyone has the right to the same level of health care, no matter who they are or where they come from."
Tousignant undertakes all these activities along with his work at the university's Clinique universitaire de la vision and as lecturer at the School of Optometry. Université de Montréal has recently recognized his community involvement and volunteer activities which have contributed to the welfare and development of society by awarding him the Rector's Award in 2013.
This text is a translation of an article originally published in French by Dominique Nancy