Rector wants to "step up" university community involvement
11/29/2013

Paule Des Rivières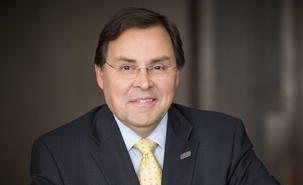 We don't just train chemists, we train citizen chemists." For Rector Guy Breton, "the university has a civic role to play that is more important than we often realize. We must go further."
The Rector is so convinced that his team has made civic engagement one of its five priorities. "When a citizen has problem, he or she should be able to turn to us. I sincerely hope that the border that divides us will disappear."
Already impressed by the range of initiatives undertaken by the university community, the Rector and his team intend to facilitate and encourage further projects. Moreover, it is a topic that often comes up during regular "Dialogues avec le recteur" exchange meetings, where employees seek more information about university community outreach activities. A sense of belonging develops through such engagement, say the employees.
"In terms of community, there are many things we can do," explains Breton. One year, on a given Sunday, we could organize a cleanup of our side of Mount Royal, or we could organize a cycling tour next year whose profits would go to primary school children from disadvantaged backgrounds. We have to 'step up' our involvement."
This text is a translation of an article originally published in French by Paule des Rivières