Louise Roy, Director Extraordinaire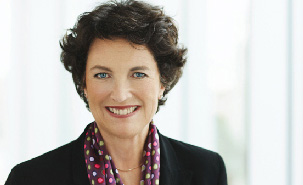 Chancellor and chair of Université de Montréal, Louise Roy, is one of four Canadian directors to win a 2014 ICD Fellowship Award for their outstanding leadership and performance in the boardroom. The Institute of Corporate Directors announced the recipients of the prestigious award on December 16, 2013.
"I'm truly honoured to be recognized in this fashion along with such experienced Canadian directors. I'm thrilled that the ICD, the benchmark of Canadian directorship, acknowledges how important the education sector is even though it is not-for-profit," said Roy.
Louise Roy has served on the Université de Montréal board since 1999 and was made chair in 2008. In 2012 she was named chair of the board of CIRANO (Centre for Interuniversity Research and Analysis of Organizations), an organization she joined as a visiting fellow in 2003.
By awarding Louise Roy this honour, the Institute of Corporate Directors recognizes her overall leadership skills as well as her continued efforts in updating governance practices at the various organizations she presides over and upholding the principles of responsible stewardship.
At Université de Montréal she created several committees whose expertise enables the institution to have a firm grasp on the many challenges faced by its managers. She has always welcomed a variety of different viewpoints on the board to ensure the university makes the most informed decisions.
"Governance needs to adapt to grow," says Roy, whose impressive resume attests to the diversity of her experience and expertise.
The chancellor was chair of the Conseil des arts de Montréal from September 2006 to December 2012. She also serves on the boards of Intact Financial Corporation, Power Financial Corporation, Montréal International, the Institute of Corporate Directors (ICD) and the National Order of Quebec.
Over the course of her career, Louise Roy has held a wide range of senior management positions, including executive vice-president of the International Air Transport Association (IATA), president and chief executive officer of Telemedia Communications, executive vice-president of Air France, and president and chief executive officer of the Montreal Urban Community Transport Commission (STCUM). She has also held a number of positions at Transports Québec.
The other recipients of the ICD Fellowship Award are Robert Murray Astley, chair of the Canada Pension Plan Investment Board, Brian M. Levitt, chair of TD Bank and non-executive co-chair of Osler, Hoskin & Harcourt LLP, and Dale Parker, vice-president of Encorp Pacific and Matrix Asset Management.
"The ICD Fellowship Awards are the highest distinction for directors in Canada," said Mary Mogford, chair of the ICD Fellowship Selection Committee. "With these awards, the ICD not only recognizes the governance achievements of four individuals, but also puts forward an example of the highest standards of directorship."
ICD Fellows are nominated by their peers and selected by an independent committee based on a number of criteria, including the quality of their leadership and their contributions to governance in and out of the boardroom.
-30-
For information:
Mathieu Filion
Senior Advisor, Media Relations
Université de Montréal
514-343-7704
m.filion-rivest@umontreal.ca