Researchers to improve cybersecurity while keeping citizens' rights safe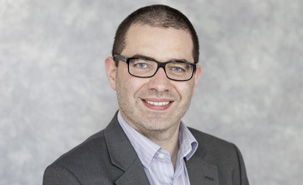 University of Montreal Professor Benoit Dupont will be leading a team of cybersecurity experts focused on improving citizens' security, thanks to an award of $1.6 million that Canada's Networks of Centres of Excellence announced today.  "The Internet and the digital infrastructures that enable it play a pivotal role in economic, social and political development, but because security was not embedded in this technology when it was initially invented, a broad range of emerging risks are challenging the integrity of Canadian companies and government agencies' computer systems," Dupont explained. "Digital crimes now represent one third of property crimes in Canada."
Dupont is a professor at the university's School of Criminology, Director of its International Centre for Comparative Criminology, and he holds the Canada research chair in security, identity and technology. His team will be known as SERENE - the Smart cybERsEcurity NEtwork.
SERENE will bring together academics from the fields of computer and social sciences, government agencies responsible for the implementation of cybersecurity and private companies that protect critical infrastructure and telecommunications businesses. "The idea is to fuse dispersed knowledge from engineering and the social sciences to help people implementing cybersecurity to be more effective," Dupont said. "We're looking at increasing the resilience of the digital ecosystem overall by improving technical practices and addressing social and regulatory issues."
The network is intended to give Canadians in particular an edge in the global digital economy. "Technologies that can reduce cybersecurity risks can sometimes generate unforeseen and undesirable social impacts as illustrated by the PRISM scandal. Our group will mobilize existing knowledge to challenge unscientific beliefs and misguided policy options that could lead to potential abuses in this emerging field. We believe by addressing these problems we can strengthen end-user's trust in the integrity of the digital infrastructure, in turn allowing the digital economy to maintain its healthy growth and innovation potential," Dupont explained.
The researchers will share the expertise through a number of different channels, including workshops, online databases, professional development programs, and even TV programmes. "80% of Canadian households have Internet access, so it is essential for us to teach the general public about the risks and the precautions that can be taken," Dupont said.
SERENE will be based out of the University of Montreal, contributing to the institution's considerable resources in the areas of cybersecurity and cyberjustice. "This network sits at the interdisciplinary interface of our International Centre for Comparative Criminology and our Centre de recherche en droit public. We are pleased that the Networks of Centres of Excellence has chosen to join us in Professor Dupont's efforts in engaging a broad expert community to wisely address and regulate the emerging cyber risks," said Geneviève Tanguay, Vice-rector of Research, Creation and Innovation at the University of Montreal.
Note:
The University of Montreal is officially known as Université de Montréal.
Media contact:
William Raillant-Clark
International Press Attaché University of Montreal (officially Université de Montréal)
Tel: 514-343-7593 | @uMontreal_News