The real danger for children of eating too many sweets this Easter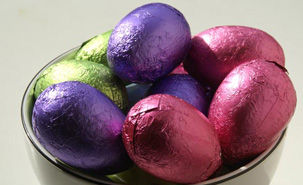 Celebrate this Easter with children's health in mind!
Easter among kids is known as a holiday to hunt for chocolate.
However, there are some dangerous consequences of eating too many sweets too often. According to a 2009-2011 Canadian Health Measures Survey by Statistic Canada, close to a third of 5-to 17-year-olds were overweight or obese. Obesity among children may lead to diabetes.
Dr. Marie Marquis, a CIHR-funded researcher at Université de Montréal in Montreal, Quebec, is available to answer your questions regarding the promotion of healthy nutrition from a very young age.
To book an interview, please contact :
David Coulombe
Media Relations
Canadian Institutes of Health Research
613-941-4563
Source :
Canadian Institutes of Health Research
The Canadian Institutes of Health Research<www.cihr-irsc.gc.ca> (CIHR) is the Government of Canada's health research investment agency. CIHR's mission is to create new scientific knowledge and to enable its translation into improved health, more effective health services and products, and a strengthened health care system for Canadians. Composed of 13 Institutes, CIHR provides leadership and support to more than 13,200 health researchers and trainees across Canada.