TD Bank Group donates $1 million to Campus Montréal campaign to help fund education and research on sustainable development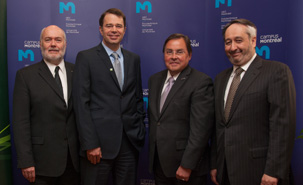 TD Bank Group has donated $1 million to Campus Montréal, the joint fundraising campaign by HEC Montréal, Polytechnique Montréal and Université de Montréal. The funds will help the three institutions further develop their education and research programs in the fields of environmental studies and sustainable development.
Campus Montréal brings together dozens of researchers whose work focuses on the environment and sustainability. The funding announced today will go to promoting and coordinating the development of training workshops and research projects, as well as creating a hub of expert knowledge on campus and eventually to create an institute for research in these fields.
"If we hope to maintain the balance of nature, it is crucial for higher-learning institutions to educate future generations on environmental principles and advance research in the field," said Éric Morisset, Vice-Chairman, Quebec Market, TD Bank Group, and Managing Director and Head, Quebec Investment Banking for TD Securities. "The TD donation will be used to focus on interdisciplinarity and collaboration, two key elements in developing new strategies and solutions for meeting the challenges we face on this planet in the years ahead."
Université de Montréal Rector, Guy Breton, emphasized how important the environmental cause is to the student body. "Our students are concerned about anything having to do with the environment and sustainable development. For example, they asked us to stop selling bottled water on campus, a request we agreed to honour last fall. Thanks to their leadership, our students have launched a number of initiatives to support the environmental cause. In addition to funding promising projects that are in line with the wishes of our student body, the generous donation made by TD Bank Group also provides us with the means to create specific scholarships for deserving students."
HEC Montréal Director, Michel Patry, commended the TD Bank Group investment. "Supporting the environmental cause and promoting sustainable development is about more than just responsibility. It's about having economic vision, as well. Harmonizing our modes of production and consumption with the values of sustainable development is one of the many topics our researchers are looking into. We're delighted to be in a position to advance research in this rapidly growing sector."
Last but not least, CEO of Polytechnique Montréal, Christophe Guy, reiterated that today's environmental concerns are precisely the kinds of issues Campus Montréal is there to address. "Not only is our university complex the leading teaching and research centre in Quebec, it's also the most comprehensive. The researchers we have on campus cover all the major fields. The challenges of achieving sustainable development require extensive collaboration between our researchers, using the measures already in place, and the initiatives we can now develop thanks to this generous gift from TD Bank Group."
- 30 -
Media contacts :
Fiona Hirst
Public and internal Affairs
TD Bank Group
Tel : 514-289-1670 | Cell: 514-250-2383
Mathieu Filion
Media relations
Université de Montréal
Tel : 514.343.7704
Julie Lajoye
HEC Montréal
Tel : 514.340.7320
Annie Touchette
Communications and public relations
Polytechnique Montréal
Tel : 514 340-4711, ext. 4415 | Cell : 514 231-8133