A new research network aims to detect Alzheimer's disease as early as possible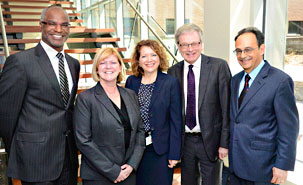 Current statistics on Alzheimer's show that one out of three people aged 80 and over will develop the disease. When Alzheimer's strikes a loved one, people are often left feeling helpless and worried, especially since we don't yet know the cause or how we can stop the disease from progressing. Fortunately, the Consortium for the early identification of Alzheimer disease – Quebec (CIMA-Q) is recruiting 350 people over the age of 60 to undergo regular exams to help researchers detect the early signs of the disease and determine what causes it. CIMA-Q is the result of a $2.5-million investment from the Pfizer-FRQS Innovation Fund, a program of the Fonds de recherche du Québec – Santé (FRQS) funded by Pfizer Canada.
CIMA-Q was publicly launched by Co-Director Sylvie Belleville, PhD, Director of the Research Centre at the Institut universitaire de gériatrie de Montréal and Full Professor in the Department of Psychology at Université de Montréal; Co-Director Andrea LeBlanc, PhD, James McGill Professor, Department of Neurology and Neurosurgery, McGill University, and Researcher at the Bloomfield Centre for Research in Aging at the Lady Davis Institute; and Rémi Quirion, Quebec's Chief Scientist and Chairman of the Board of Directors of the FRQS.
What is CIMA-Q?
CIMA-Q is a group of over 90 Quebec researchers and clinicians whose goal is to identify the causes of Alzheimer's disease, develop tools for early diagnosis, and eventually find a cure.
Joining forces
CIMA-Q Co-Director Sylvie Belleville explained the importance of bringing together stakeholders from across Quebec: "Alzheimer's poses such a huge challenge: to understand it, we need to harness the expertise and work of all researchers who are tackling this disease. This lets everyone build upon the expertise and discoveries of others, which is how scientific breakthroughs happen and how the science of tomorrow has to work. This strong desire to join forces for Alzheimer's is in line with my vision of research, and I am honoured to co-direct this project."
CIMA-Q will create a central database of clinical, neuroimaging and biological measurements that researchers will study to determine the early markers of the disease. Participants will undergo regular assessments to see if they are developing symptoms or maintaining their cognitive health. CIMA-Q experts will also study
lifestyle aspects to determine which ones predispose individuals to or protect them from the disease. CIMA-Q Co-Director Andrea LeBlanc is inviting as many people as possible to participate: "We need a large pool of volunteers! Whether you are healthy or worried about your memory, you can help advance science. This is a chance for people to take concrete action, as we all know someone who is suffering or has suffered from Alzheimer's. We all want to do something to avoid the disease ourselves and to protect our children."
Quebec is making strides
Rémi Quirion, Quebec Chief Scientist, is very pleased with this new network: "Quebec is innovating yet again by getting researchers to work together. In such a competitive field as research, we have to give full credit to these Quebec experts for this approach. We are especially proud of the close collaboration between the co-directors, who come from different universities (Université de Montréal and McGill University) and who have recruited dozens of experts from across Quebec for this important project."
As a sponsor, Pfizer Canada is confident in this innovative large-scale project. "The consortium and its cutting-edge initiatives address significant health problems for Quebec society and are bringing together multidisciplinary teams of eminent researchers from major Quebec institutions. Pfizer is proud to support them, as they are yet another symbol of Pfizer Canada's desire to continue its involvement in the development of research in Quebec," stated Dr. Vratislav Hadrava, Vice President, Medical Affairs & Chief Medical Officer, Pfizer Canada.
TO REGISTER WITH CIMA-Q
For more information, visit the website (www.cima-q.ca) or call 514-340-3540, extension 4599.
ABOUT THE CIMA-Q CO-DIRECTORS
Sylvie Belleville, PhD, Researcher and Director of the Research Centre, Institut universitaire de gériatrie de Montréal (IUGM); Full Professor, Department of Psychology, Université de Montréal.
Andrea LeBlanc, PhD, Researcher, Bloomfield Centre for Research in Aging, Lady Davis Institute; James McGill Professor, Department of Neurology and Neurosurgery, McGill University.
–30–
Official picture will be available on www.iugm.qc.ca/index.php/fr/nouvelle.html in the early afternoon.
For information:
Astrid Morin Media Relations Officer
Jewish General Hospital
514-340-8222, extension 4612
Geneviève Desrosiers Communications Advisor
Institut universitaire de gériatrie de Montréal
514-340-2800, extension 3298