Researchers discover a novel drug target linked to insulin secretion and type 2 diabetes treatment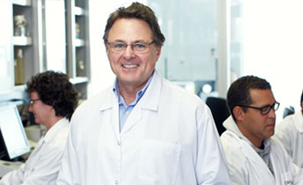 A signal that promotes insulin secretion and reduces hyperglycemia in a type 2 diabetes animal model is enhanced by the inhibition of a novel enzyme discovered by CHUM Research Centre (CRCHUM) and University of Montreal researchers. The team is part of the Montreal Diabetes Research Center and their study, published recently in Cell Metabolism, was directed by researchers Marc Prentki and Murthy Madiraju.
Insulin is an important hormone in our body that controls glucose and fat utilization. Insufficient insulin release by the beta-cells of the pancreas and interference with the action of insulin lead to type 2 diabetes. The secretion in the blood of insulin is dependent upon the utilization of glucose and fat by the beta-cells and the production of a novel signal that they discovered named monoacylglycerol.
"Despite significant research on the mechanisms implicated in insulin secretion, the signal molecules involved in this process remained enigmatic; the identification of these signals is necessary to develop better therapeutics against diabetes," explains Marc Prentki, Director of the Montreal Diabetes Research Centre and Professor at the University of Montreal. Marc Prentki holds the Canada Research Chair in Diabetes and Metabolism.
"When sugar is being used by the insulin secreting pancreatic beta-cell, it produces monoacylglycerol, a fat-like signal and this is associated with insulin release into blood; we found that the production of monoacylglycerol is essential for glucose-stimulated insulin secretion by the beta-cell," says Murthy Madiraju, Researcher at the CRCHUM.
Importantly, the research team discovered that an enzyme called alpha/beta hydrolase domain-6 (in short ABHD6) breaks down monoacylglycerol and thus negatively controls insulin release.
These researchers said that "an ideal drug for type-2 diabetes would increase insulin levels in blood by enhancing the beta cells response to glucose only when it is elevated and also increase the sensitivity of body tissues to insulin; this is precisely what ABHD6 inhibition does and thus we have identified a unique new target for type 2 diabetes."
The research team is currently in the process of discovering new and potent blockers of ABHD6 that do not show any unwanted toxicity and which can be developed as potential drugs for type 2 diabetes. These studies are being done in collaboration with AmorChem Financial, Inc., and its subsidiary NuChem Therapeutics, Montreal.
- 30 -
About the research project
The study was supported by the Canadian Institutes of Health Research. The Montreal research team directed by Marc Prentki and Murthy Madiraju consisted of Shangang Zhao, Yves Mugabo, Jose Iglesias, who are first authors of the study and performed most of the experimental work, and Viviane Delghingaro-Augusto, Roxane Lussier, Marie-Line Peyot, Erik Joly, and Bouchra Taïb, who also contributed. The study was conducted in collaboration with Dr Herbert Gaisano and Li Xie (Toronto), J. Mark Brown and Matthew A. Davis (Winston-Salem, NC), and Abdelkarim Abousalham (France). For more information, please visit the journal page at: www.cell.com/cell-metabolism/abstract/S1550-4131(14)00166-1
About Marc Prentki
Marc Prentki was trained in Biochemistry at the University of Geneva where he obtained a PhD degree. In 1994 he joined the Departments of Nutrition and Biochemistry at the Université de Montréal where he is now full Professor and Canada Research Chair in diabetes and metabolism. In 2004, Dr Prentki, with the help of several investigators, founded the Montreal Diabetes Research Center that he currently directs. He was awarded in 1994 the prize of the Federations of European Endocrine Societies and the Albert Renold prize of the European Association for the Study of Diabetes in 2011.
About the MDRC
The Montreal Diabetes Research Center (MDRC) consists of a group of scientists principally located in the Montreal area, who perform basic, clinical and population health research in the fields of diabetes and its complications, as well as obesity and the metabolic syndrome. The MDRC is a group of excellence in diabetes research. It brings together more than 50 research teams of basic scientists and clinicians from six universities (Université de Montreal, McGill University, Université du Québec à Montréal, Université Laval, Université de Sherbrooke, University of Ottawa) working in various aspects of both type 1 and 2 diabetes and their complications as well as cardiometabolic disorders. The MDRC was created in 2004 thanks to a major Canada Foundation of Innovation (CFI) infrastructure grant with Marc Prentki as lead investigator. Two subsequent leading-edge CFI infrastructure grants were awarded to the MDRC in 2008 and 2013. The objective of the MDRC is to foster innovative basic, applied and clinical diabetes research and to provide an exceptional student training environment.
About the CRCHUM
The University of Montreal Hospital Research Centre (CRCHUM) improves the health of adults through a high-quality academic research continuum which, by improving our understanding of etiological and pathogenic mechanisms, fosters the development, implementation and assessment of new preventive, diagnostic and therapeutic strategies. The CRCHUM provides a training environment to ensure the development of new generations of researchers committed to research excellence.
The University of Montreal Hospital (CHUM) and the University of Montreal are known officially as Centre hospitalier de l'Université de Montréal and Université de Montréal, respectively.
Sources :
Centre hospitalier de l'Université de Montréal (CHUM)
Université de Montréal
Information :
Lucie Dufresne
Communication Advisor
Centre hospitalier de l'Université de Montréal (CHUM)
Phone: +1 514 890-8000, poste 15380
Pager: +1 514 860-7110
William Raillant-Clark
International Press Attaché
Foreign, English-speaking and scientific media
Université de Montréal
Phone : +1 514 343-7593
w.raillant-clark@umontreal.ca