Whose research got the most coverage in 2013?
05/27/2014

Paule Des Rivières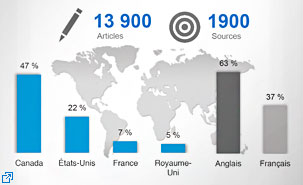 Almost 14,000 articles related to Université de Montréal research were published online by English and French language media, according to a study undertaken by Spotter for the university's Office of Public Relations and Communications (BCRP). Dave Ellemberg and Thierry Karsenti were amongst the most reported on researchers.
Spotter is a media monitoring company that regularly works with the BCRP. They following local and foreign media online – the vast majority of the articles they pick up were published by traditional media on their websites.
Canadian media published 47% of the articles they identified, and almost two-thirds of the coverage was in English. These articles all mentioned the researcher's full name and their university affiliation. As this is a study into the coverage of researchers' academic work, the word "research" also had to appear in the text. Although media analysis of this kind is almost never perfect or categorical, Spotter was able to quickly recognize articles that were overwhelmingly about an Université de Montréal researcher's work or commentary on someone else's findings.
Coverage was weighted by the importance of a particular media to the university community. Spotter's "visibility index" gave researchers a score of 1, 1.5 or 2 for each hit. For example, a mention in Le Monde, La Presse or Scientific American were all two-point hits: Le Monde due to its international influence, La Presse because of its strong influence in Quebec, and Scientific American because of its importance amongst the wider scientific community. Peer reviewed journals were excluded from Spotter's analysis as they are not "media" in the general sense of the term.
The researchers are presented in two groups: natural sciences, including health, and social sciences, including arts and law. This is because the media generally takes a very different approach to reporting on these two families of study. Coverage of natural sciences tends to occur in reaction to a peer reviewed publication or presentation while coverage of expertise in social sciences tends to take place as the media reacts to social issues or current events.
Professor Ellemberg of the Department of Kinesiology tops out the natural science list, followed by his doctoral student Élise Labonté-Lemoyne. They undertook a study that showed that exercise during pregnancy facilitates the baby's brain development. Furthermore, Prof Ellemberg regularly reaches out to the public through the media to raise awareness of the dangers of sport-related brain injury, and has published a book abou thte subject.
Extensive reports on Professor Karsenti's research into the use of new technologies in the classroom put him at the top of the social science list. As a researcher at the university's Faculty of Education, his study into the benefits and issues related to students' use of iPads was particularly well received by journalists.
Overall, La Presse, Radio-Canada, Le Devoir and The Gazette were the Canadian media that reported on Université de Montréal researchers the most often. Internationally, the university was most often cited by the UK's Daily Mail and Reuters, Fox News and France's Le Monde.
Many factors contribute to a researcher's visibility in mainstream media. However, support from the university's communications office, in the form of a press release or article in our Forum newspaper can make a big difference. "Several factors can contribute to the likelihood of wide media coverage of research, such as if it has a link to a current event and how good the media outreach strategy is. Being able to contact trusted journalists before a study is published and while the findings are still embargoed is huge," said William Raillant-Clark, International Press Attaché at the university's communications office. The availability of relevant, copyright-free images also improves media interest, he added.
The university's weekly Forum newspaper offers researchers a safe opportunity to dip their toes into science outreach, and coverage in Forum often leads to coverage by outside media. It's a great first introduction for researchers to the media cycle. "There are many ways to go about science outreach, and we like to combine the possibilities as a way of offering the community a chance to discover the work undertaken by Université de Montréal researchers," said Paule des Rivières, Director of Publications at the BCRP. "Our mission is to facilitate outreach and enable researchers to share their findings with the public."