Teaching Youth That Smoking is No Longer "In"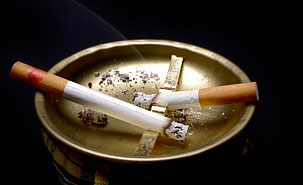 Smoking is one of the leading causes of avoidable illness and premature death in Canada. According to a Health Canada study, in 2012, 233,000 teenagers (11%) and 488,000 young adults (20%) were smokers. In order to prevent these statistics from rising, several new intervention methods have been developed to try and help youth stay away from tobacco (e.g. use of a smartphone application and conversations at support group sessions). Those who start smoking at an early age have a higher chance of developing serious nicotine addictions as well as lung cancer and respiratory diseases as adults. So, it's imperative to put these new interventions into action.
To mark World No Tobacco Day, the following CIHR-funded researchers are available to discuss how these interventions could be engaging to youth and potentially motivate them to stop smoking.
Experts:
Social Group Does Matter: Differences in Smoking and Effects of Interventions Based on Socio-Economic Status
Dr. Katherine Frohlich, Professor at Université de Montréal's Department of Social and Preventative Medicine and CIHR-funded researcher (Montréal, Québec)
Success of Tobacco Control Strategies in Current and Former Youth Smokers
Dr. Louise Parker, CIHR-funded researcher (Halifax, Nova Scotia)
Breaking the Habit: Using a Smartphone App to Help Young Adults Quit Smoking
Dr. Catherine Burns, CIHR-funded researcher (Waterloo, Ontario)
Source: Canadian Institutes of Health Research
About the Canadian Institutes of Health Research
The Canadian Institutes of Health Research (CIHR) is the Government of Canada's agency for health research. CIHR's mission is to create new scientific knowledge and to enable its translation into improved health, more effective health services and products, and a strengthened Canadian health-care system. Composed of 13 Institutes, CIHR provides leadership and support to more than 13,200 health researchers and trainees across Canada. www.cihr-irsc.gc.ca
To schedule an interview, please contact:
David Coulombe
CIHR Media Specialist
Office: 613-941-4563
Cellphone: 613-808-7526
E-mail: mediarelations@cihr-irsc.gc.ca
Université de Montréal contact:
William Raillant-Clark
International Press Attaché
University of Montreal (officially Université de Montréal)
Tel: 514-343-7593
w.raillant-clark@umontreal.ca
@uMontreal_News