Université de Montréal presents honorary doctorate to Christine Lagarde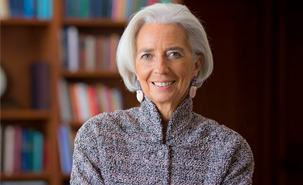 Christine Lagarde, Managing Director of the International Monetary Fund, will receive an honorary doctorate from Université de Montréal on Monday, June 9. This distinction will be awarded as part of the Conference of Montreal, where she will be invited to an opening luncheon with Philippe Couillard, Premier of Quebec, and many other dignitaries.
"By awarding Madame Lagarde this honorary doctorate, Université de Montréal is recognizing the talents and determination of a woman who has thoroughly earned her position as a world leader. It was logical for the university to invite her to join our prestigious club of honorary doctors, which includes Louise Arbour, Michelle Bachelet, and Jean-Claude Trichet" said Dr. Guy Breton, Rector of Université de Montréal.
"Christine Lagarde is an exceptional woman – she has made history by becoming the first woman to head an international financial institution. Her pioneering career is a source of inspiration for many. I am extremely pleased to welcome her into our community," said Louise Roy, Chancellor of Université de Montréal.
Gil Rémillard, Founding Chairman of the Conference of Montreal, said he was "proud that Université de Montréal is partnering with the Conference to honour a key personality in the world of business and finance. For twenty years, our Conference has been a forum for ideas and the very high level leaders who conceive them, and it's fitting that it should also be an opportunity to honour the career of Christine Lagarde."
After the honorary doctorate ceremony, Lagarde will have a public dialogue with John Micklethwait, Editor-in-Chief of the prestigious journal The Economist.
A graduate of the Institut d'études politiques d'Aix-en-Provence, whose Board of Directors she now chairs, Christine Lagarde was admitted to the Paris Bar in 1981 and joined the law firm Baker & McKensie. In 2004, she became President of the Global Strategic Committee.
The following year, Lagarde entered French politics as Minister of Trade. In 2007, she was named Minister of Agriculture and Fishing, and several months later, she was the first woman to become finance minister of a G-7 economy.
As a member of the G-20, she participates in the management of financial crisis by contributing to the promotion of the adoption of international financial monitoring and regulation policies and the strengthening of global economic governance. As head of the G-20 when France assumed its presidency in 2011, she launched a vast program to reform the international monetary system.
On July 5, 2011, Christine Lagarde became Managing Director of the International Monetary Fund. She is the first woman to hold this position.
In brief:
WHAT: Honorary Doctorate Awarded to Christine Lagarde
WHEN: Monday, June 9, 2014, 12:00 p.m.
WHERE: Fairmont the Queen Elizabeth Hotel Grand Salon 900 René-Levesque Blvd. W., Montreal
-30-
Media relations:
Mathieu Filion
Senior Advisor, Media Relations
Université de Montréal
Tel.: 514 343-7704
m.filion.rivest@umontreal.ca
Media accreditation for the Conference of Montreal:
Sophie Roy
Head of Media Relations
Tel.: 1-844-778-7296
rsvpmedia@cohnwolfe.ca