Guy Breton appointed to the Order of Canada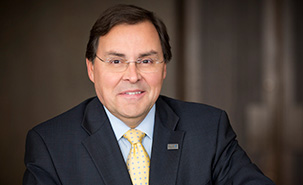 Guy Breton, rector of the Université de Montréal (UdeM), has just been appointed to the Order of Canada, with the grade of Member, by Governor General David Johnston.
Dr. Breton will accept his insignia at a ceremony to be held in Ottawa this fall. "I heartily congratulate Rector Guy Breton for this well-deserved honour. This is yet another acknowledgement of his leadership, dedication and involvement in service not only to our university community but to Canadian society as well. Under his leadership, our university is making undeniable contributions to the broader influence of Canadian education and research," said UdeM Chancellor Louise Roy.
Guy Breton is the eleventh rector of the Université de Montréal, the second-largest university in Canada. A radiologist by training, he is a full professor in the UdeM medical faculty, where he has taught since 1979. In that time he has been department chair and executive vice dean of the faculty of medicine, among other positions. As rector since June 2010, Dr. Breton has significantly enhanced the reputation of the Université de Montréal on the national and international scene.
The Order of Canada, one of our country's highest civilian honours, was established in 1967 to recognize a lifetime of outstanding achievement, dedication to community and service to the nation.