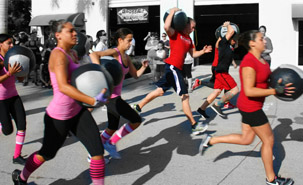 Quebecoise Camille Leblanc-Bazinet won the Reebok CrossFit Championship last weekend in Carson, California, what is considered by its loyal followers as the ultimate proving grounds of the fittest athletes in the world. Her victory is drawing more attention to the sport that has its fair share of supporters and detractors.
Université de Montréal researchers funded by the Canada Foundation for Innovation can comment on CrossFit and its potential associated risks.
· Biomechanics professor and former gymnast Mickaël Begon uses modelling and simulation equipment, as well as his athletic background, to study acrobatic body movements for the prevention and rehabilitation of sports injuries. Begon currently works with the national diving team as part of the Own the Podium program — the program created by the Canadian Olympic Committee to improve Canada's medal ranking — to help divers optimize their movements to perform better and avoid injury. He sees similarities between CrossFit and gymnastics, and says that as CrossFit matures as a fitness regimen, as gymnastics did, it will become more technical and professional and will result in fewer injuries.
· Patrick Marion researches shoulder injuries in Begon's lab and is a former personal trainer. He applauds CrossFit for popularizing fitness, saying it's a great cardio workout that encourages group exercise and a healthy lifestyle. However, he finds the fitness program's motto, "Get it done, by any means necessary," worrisome. Marion says CrossFit is best suited to athletes, especially gymnasts, who have the training necessary to repeatedly and quickly perform complex movements in a short time — this can be a recipe for disaster for the average person who lacks the experience and strength for such difficult moves. Marion can discuss the various overhead exercises in CrossFit that can often cause injuries and describe adjustments that can be made to make this popular training more user-friendly to the masses.
· François Prince is the director of the Department of Kinesiology and is available to give a general overview of the department's research activities.
These are just a few of the angles these CFI-funded researchers are prepared to discuss in relation to CrossFit and Leblanc-Bazinet's recent championship win.
About the Canada Foundation for Innovation
The Canada Foundation for Innovation gives researchers the tools they need to think big and innovate. By investing in state-of-the-art facilities and equipment in Canada's universities, colleges, research hospitals and non-profit research institutions, the CFI is helping to attract and retain the world's top talent, to train the next generation of researchers, to support private-sector innovation and to create high-quality jobs that strengthen the economy and improve the quality of life for all Canadians. For more information, visit Innovation.ca.
- 30 -
Source: Canada Foundation for Innovation
Further information and interview requests:
Malorie Bertrand
Communications Officer
Canada Foundation for Innovation
613-943-2580 (office) 613-899-1659 (mobile)
Malorie.bertrand@innovation.ca
Contact person at Université de Montréal's Office of Public Relations and Communications: William Raillant-Clark