Ten years of training doctors in the regions, for the regions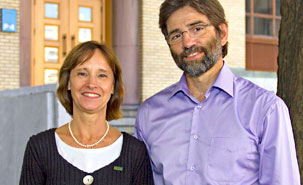 Since 2004, Université de Montréal's campus in Mauricie has trained doctors in the region with great success. Today, in 2014, the Campus is a major driver of development and is a source of pride for all. "We were the first in Canada to embark on the venture of a complete, delocalized medical training program. Ten years later, we're proud to see the positive impact this project has had on the region, our university, and our graduates," said Guy Breton, Rector of Université de Montréal, who also stressed the excellent management of the Campus since it opened.
"Our commitment in the Mauricie has resulted in the rapid establishment of a campus run by professionals who are passionate about providing the highest quality education. Today, we're delighted to see that the national examination scores of students from the campus are well above the Canadian average," said Faculty of Medicine Dean, Hélène Boisjoly.
"The human dimension of the campus ensures that we are in tune with the needs of the population and the students. This feature has also allowed us to innovate and quickly implement great initiatives in the area of interdisciplinary training and mentoring, and for a longitudinal internship program – in which students receive personalized monitoring and evaluation of their medical training – which we are proud of," said the faculty's Deputy Vice-Dean for the Mauricie Campus, Réjean Duplain .
In 2004, the Mauricie was the least well served region in Quebec in terms of doctors. Since the arrival of the campus, the region has an additional 74 specialist doctors and 160 family doctors to serve the population.
Through valuable partnerships with the UQTR, the CSSS de Trois-Rivières, and the CSSS de l'Énergie, Université de Montréal in Mauricie offers one of the best medical training programs in Canada, has allowed greater access to care, and has become a veritable boost to the regional economy with direct benefits estimated at $8.4 million.
Facts and figures
40 students per year in Trois-Rivières over 5 years (including pre-medical year)
360 doctors involved in teaching in various educational settings
352 specialty internship months in 2014-2015 (anesthesia, cardiology, general surgery, microbiology, nephrology, neurology, obstetrics and gynecology, pediatrics, internal medicine, psychiatry, geriatrics)
322 residency internship months in family medicine in 2014-2015
A campus of growing popularity:
The percentage of admitted students who made the campus their first choice grew from 26% in 2007-2008 to 64% in 2014-2015
79% of students at the campus consider that studying in the Mauricie is a benefit to their career (according to a survey conducted in 2013 among students and graduates from 2009 to 2012.)
A real impact for Quebec regions and choosing family medicine:
61% of respondents say they practice or would like to practice outside urban centres
Family medicine is the most popular choice among students at the campus (60%-70% since 2010 compared to 40% for all of Quebec)
Benefits of studying in the Mauricie:
Small teaching groups
Personalized training
Anatomy lab for dissection with real and plastinated models available five days a week (UQTR)
Immersion in clinical settings throughout the entire program
Simulation centre with high-tech equipment
Dynamic region
Interview with Dr. Raymond Lalande, who coordinated Université de Montréal's Mauricie project
In 2003, no university in Canada offered a complete medical program outside a major urban centre. Seeing the potential, Dr. Jean Rouleau, Dean of Université de Montréal's Faculty of Medicine, threw his support behind Vice-Dean Raymond Lalande's project for a decentralized campus for Quebec's Mauricie region, shouting "I love it. Go for it!"
The Dean had just taken up his post (he has since left, replaced by Dr. Hélène Boisjoly), but he immediately believed in the project. Just 13 months later, thanks to intensive work, the first students were already registering for the program. "A tour de force, considering the University of British Columbia had been working on a similar project for five years," said Lalande, who is now Vice-Rector of Academic Affairs.
Succeeding in getting approval in such a short time from faculty, university, and ministerial committees related to medical training was no easy task, but finding partners among hospitals and elected officials and obtaining budgets to construct a building was almost a miracle. The reached a real milestone in 2009, when a dedicated building was inaugurated and the first class of students graduated. Attending the ceremony, Lalande was clearly moved by the remarkable progress made. The ultimate award came in 2010, when the recently graduated doctors obtained highest scores at the Medical Council of Canada examinations.
The idea came to Lalande while he was reading an article published in 2002 in Academic Medicine. With supporting figures, the authors explained that doctors trained in regional communities tended to settle there in large numbers after obtaining their licensure – provided that the training was over a long period and not limited to a few months of internship. While new to Canada, the approach was common in the United States. Applied to the Mauricie region, which was painfully short of doctors, it would provide considerable benefit to the Faculty of Medicine, which was struggling with a growing number of students. "It was a difficult problem," recalls the doctor. "Affiliated hospitals were already saturated in terms of faculty-student ratios. An external campus would distribute the expertise."
This was not unfamiliar territory for Lalande, who had long been interested in medical education. After having graduated from Université de Montréal's M.D. and Family Medicine programmes in 1983 and 1985 respectively, he obtained a master's degree in adult education from the Faculty of Education Sciences in 1991. He played a leading role in 1992 in reforming education towards problem-based learning – a success story given the remarkable results of the seven consecutive UdeM classes (2000-2007) who had the highest scores at the Medical Council of Canada's final examinations.
It was his personal experience that led him to the Dean's Office: he wanted to improve the teaching of medicine. Originally from Montreal, Lalande grew up in the Sainte-Rose neighbourhood of the suburb of Laval, where his mother founded a hospital in 1957. In his own words, he was an "average" student. He had to apply four times before being accepted in medicine, time enough to complete a bachelor's degree in biology at the Université de Montréal. But his studies in medicine turn out to be extremely boring compared to his first program. "We had three years of lectures before being tossed into hospitals. We had a lot of tools in our bag, but it was total chaos," he remarked.
Dr. Lalande is grateful to his partners in Montreal and Mauricie who made this project possible. He had kind words for Maryse Rinfret-Raynor and Nicole Maestracci at the Rector's Office, who worked hard for the Mauricie project, often behind the scenes, and he also thanked colleagues at the Université du Québec à Trois-Rivières, who played a critical role in teaching the 2004-2005 pre-medical year while clinicians of the future campus were being trained, and who moreover continue to fulfil this role. Dr. Michel Bureau, Deputy Minister of the Ministry of Health and Social Services also played an important role in supporting the project at the government level.
"There were many skeptics and a number of stumbling blocks, but we overcame them with the help of our partners," said Dr. Lalande.
Partnership with institutions in the Mauricie: the key to success
With the UQTR
Expertise in basic sciences—a tremendous asset for the campus, especially for the training of pre-med students
Highly developed anatomy sector to accommodate students from the Mauricie campus as well as from Montréal for research and teaching
Graduate training in the health sciences sponsored by the Université de Montréal
Inter-professional training of doctors and students in health (midwifery, nursing, podiatry, chiropractics, speech pathology)
With the CSSS de Trois-Rivières (65% of internships)
Regional reference centre providing all medical specialties and designated as a university institution, and a specialized service centre (CMS) for advanced training
With the CSSS de l'Énergie (35% of internships)
General medicine hospital whose approach to care is focused on bringing medical services to the regions
Timeline
June 2003: First meeting of the CHRTR and Université de Montréal to discuss the establishment of a medical program in the Mauricie. Draft of a complete medical program proposed by Université de Montréal
July 2004: Approval by the Government of Quebec
August 2004: First students (24) begin their pre-medical year at the UQTR
July 2005: Opening of a family medicine unit (UMF) in the CHRTR's Saint-Joseph Building
May 2005: Signature of a memorandum of understanding between the CHRTR and the Université de Montréal
August 2005: Students (32, including 8 students exempted from the pre-med year) begin their first year of Université de Montréal doctoral program in medicine.
2006: Signature of an affiliation contract between the CHRTR and the Université de Montréal
August 2007: Opening of another UMF in Shawinigan
October 2007: Opening of a clinical teaching unit in internal medicine in Shawinigan
January 2008: Opening of a clinical teaching unit in geriatrics in Shawinigan
July 2009: End of residency for the first class of residents at the Trois-Rivières UMF
Fall 2009: Draft Anatomy agreement with the UQTR
October 2009: Inauguration of the new medical education building at the CHRTR
June 2010: Students from the campus finish first in Canada at the CMC examinations
August 2010: Increase in student classes to 40 per year
July 2011: Graduation of the first class of students from the campus's family medicine specialization
July 2011: Designation of the CSSS de Trois-Rivières CHRTR as a Centre hospitalier affilié universitaire régional (CHAUR)
December 2011: Inauguration of the internal medicine unit (UMI) at the CSSS de Trois-Rivières
August 2012: Start of the longitudinal internship project
August 2013: Start of the mentoring project for first-year clerks
July 2014: End of postdoctoral specialization studies for the first student class of 2004
September 2014: Celebration of the campus's 10th anniversary
Source
Faculty of Medicine and Office of Communications and Public Relations, Université de Montréal. This is a courtesy translation of official documentation issued in French
Media Contact
Louis Tremblay
Communications Advisor, Faculty of Medicine, Université de Montréal
Office: 514 343-6111 ext. 3048
Cellular: 514 466-0323