After Boston and Tokyo, Montreal is one of the world's best university cities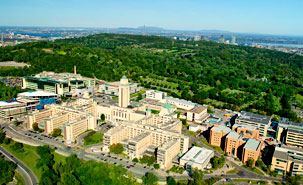 After Boston, Montreal is the best student city in North America, and it's in fact the eighth best place to study in the world, according to the Best Student Cities ranking prepared by QS, a British company. Montreal has climbed two spots since last year.
This ranking illustrates the Montreal universities' international strength of attraction," said Guy Breton, Rector of Université de Montréal. "Our city features everything it needs to attract students from around the world: a unique environment, a dynamic intellectual and scientific scene, cultural diversity, artistic vitality and an open-minded spirit. Moreover, I'm thrilled to observe that city officials consider universities to be partners who contribute to Montreal's development and influence."
The ranking looks at cities of over 250,000 inhabitants who feature at least two institutions listed in the QS World University Rankings, and is based on five main criteria: rankings of the city's universities, the diversity of its student population, quality of life, its reputation amongst recruiters and its affordability. These five criteria are further subdivided into 18 more specific criteria that evaluates factors like safety, pollution, perceived corruption and social progress.
The ranking can be consulted at Top Universities.
This document is a courtesy translation of an official document published in French.