The ABCs Developmental Neuropsychology Laboratory is inaugurated, at the crossroads of health and social sciences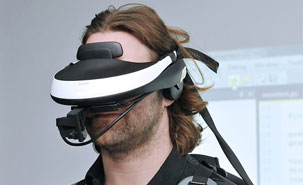 Located at the crossroads of health and social sciences, the ABCs Developmental Neuropsychology Laboratory was inaugurated on November 20, 2014, by Dr. Miriam Beauchamp, an investigator at Sainte-Justine University Hospital Research Center and associate professor at the Department of Psychology of Université de Montréal. The laboratory is equipped with a wide selection of cutting-edge interactive equipment. The unique way in which the investigator and her team pool this equipment will allow them to design assessment tools for infants and adolescents at risk of cerebral, cognitive and social development impairment – particularly those who have sustained a concussion or brain injury – and to help improve patient management and intervention.
The unique design of the laboratory is based on an interactive multimodal approach to the study of cerebral, cognitive and social developmental problems. The various assessment and technical modes are allocated to different rooms equipped to observe and analyze young people in natural interaction with their parents and other children or when participating in various specific tasks, including measuring attention or moral reasoning: virtual reality, social cognition, eye-tracking, facial emotions reading, audiovisual observation, neuroimaging, and actigraphy.
The aim of the studies conducted in the laboratory is to explore not only cerebral and cognitive maturation, but also biological and environmental factors that influence social development. "It is estimated that while some children will develop noticeable cognitive, emotional, social or behavioral difficulties after a head injury, others will recover with almost no sequelæ. How can this difference be explained?" wonders Dr. Beauchamp. To answer this type of question, she is conducting the LION study in children 18 months to 5 years old. She is also a co-investigator in the Predicting Persistent Postconcussive Problems in Pediatrics (5P) study, which monitors more than 2,200 young people between 5 and 18 years of age in nine institutions across Canada.
The laboratory's state-of-the-art equipment was funded through the John R. Evans Leaders Fund of the indispensable Canada Foundation for Innovation (CFI). ?This kind of project is a good example of how the support of the CFI enables innovative research and contributes to the advancement of knowledge in the health sector, which in turn benefits the patient," said Gilles G. Patry, president and CEO of the CFI. To celebrate the inauguration, the laboratory team hosted members of the scientific community to showcase its new infrastructure and numerous assessment rooms, including those for eye tracking, reading facial emotions and virtual reality.
Recognizing feelings and sensations
One room is equipped with many assessment tools like an eye-tracking system (Tobii Studio) that tracks a child's eye movements as an indicator of its social attention. This is a particularly interesting tool, since in addition to being non-invasive, it studies young children who sometimes have trouble communicating what they think, feel or experience.
The room also houses a facial emotion reader (FaceReader), which identifies the basic emotions a child feels in specific situations such as good mood, sadness, anger, surprise, fear and disgust.
Using virtuality to assess moral reasoning
A virtual reality room (So-Live) has been set up to present children with environments mimicking reality and has them experience situations that approximate daily living while measuring their reactions and decisions. Using a virtual moral reasoning task that Dr. Beauchamp's team is developing, the scientists will be able to determine what mental, affective and physiological indicators are associated with decision making in everyday social situations.
Dr. Miriam Beauchamp's studies are funded by the Canadian Institutes of Health Research, Natural Sciences and Engineering Research Council of Canada and Fonds de recherche du Québec – Santé.
Source:
Communications, Sainte-Justine University Hospital Research Center