A First in Quebec in the Field of Scoliosis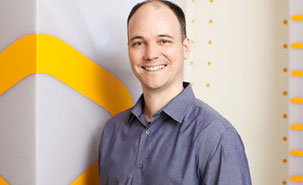 The Sainte-Justine University Hospital Center (CHU Sainte-Justine) affiliated to Université de Montréal is now the first institution in Québec, the second in Canada and among the world's top ten to perform a revolutionary back surgery technique in children with scoliosis. The number of such surgeries performed worldwide so far is less than a hundred. Unlike any other technique, this one enables children of seven years of age and up to 14 years old to gain a straight spine, with no limitation of movement. The intervention is performed at CHU Sainte-Justine by orthopedic surgeon Dr. Stefan Parent, who also carries research with the aim of identifying those children at-risk of major curvature progression who are likely to benefit from the new surgical technique.
Straightening the spine by leveraging the child's growth
The technique consists in installing implants along the spine while relying on the child's growth over years to straighten the spine. Unlike to the conventional technique which leaves a large scar in the back in addition to fusing the vertebrae and restraining movements, the use of cutting-edge equipment provides children with a non-invasive surgery, as implants are very precisely positioned along the spine through thoracoscopy, intraoperative navigation and an O-Arm™ imaging mobile view station. Surgery duration is four to six hours, patient's stay in the hospital is four to five days, and return to sports is quite rapid, normally in three to four months following the surgery. Therefore, the technique represents a major improvement in the lives of adolescents with scoliosis.
Identifying more children who might benefit from the surgery technique
In addition to performing surgeries, Dr. Parent conducts research aimed at predicting, in three dimensions, how a child's idiopathic scoliosis might progress. He recently published papers in the Journal of Pediatric Orthopedics and Spine Deformity, which demonstrate that identifying whether a patient is at high risk of progression is possible at his first visit. He is currently leading a multicentre study in eight different hospitals located in Asia, Europe and North America in order to validate his conclusions. Ultimately, his predictive model is expected to grow the number of children with idiopathic scoliosis likely to benefit from the new surgical technique, which draws from the child's growth potential to straighten the spine.
-30-
Video of the surgery (duration: 2 minutes)
The video shows images of the operating room, preoperative X-rays, thoracoscopies, equipment set-up and postoperative X-rays: www.youtube.com/watch
Interviews
Patients who have benefited from this surgery and their parents, as well as the surgeon and researcher, are also available to speak about their experience.
Source: CHU Sainte-Justine For information: Mélanie Dallaire Senior Advisor, Media Relations CHU Sainte-Justine 514 345-7707 (direct line) 514 415-5727 (media pager) About CHU Sainte-Justine Centre hospitalier universitaire (CHU) Sainte-Justine is the largest mother-and-child centre in Canada and one of the 2nd largest pediatric centres in North America. CHU Sainte-Justine is a member of Université de Montréal's extended network of excellence in health (RUIS), with 5,664 employees, including 1,578 nurses and nursing assistants, 1,117 health professionals, 502 physicians, dentists and pharmacists and 822 residents, as well as more than 200 researchers, 300 volunteers and 3,400 interns and students in all disciplines. CHUSJ has 484 beds, 35 of which are located at the Centre de réadaptation Marie Enfant (CRME), the only centre in Quebec exclusively dedicated to pediatric rehabilitation. The World Health Organization (WHO) has recognized CHU Sainte-Justine as a "health promoting hospital". chusj.org