Maryse and William Brock Chair in Applied Stem-Cell Transplant Research to be created at UdeM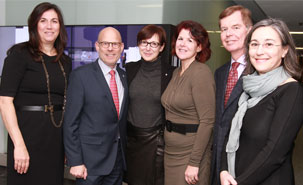 A new chair of applied research on stem-cell transplants will soon be created at the Université de Montréal and Maisonneuve-Rosemont Hospital, thanks to the sustained efforts of two donors, Maryse Bertrand and William Brock. Already, $2 million has been raised toward the sum of $3 million required to endow the chair.
Stem-cell transplants have very significantly increased the chances of survival for patients suffering from various forms of blood cancer. Rapid advances in knowledge in this field have opened the way to new treatments in recent years. The Maryse and William Brock Chair in Applied Stem-Cell Transplant Research will give added impetus to these research programs.
Today's official announcement of the future research chair was attended by the donors and their family, together with Université de Montréal Faculty of Medicine's Dean Hélène Boisjoly and director general of Maisonneuve-Rosemont Hospital Manon Boily.
"I had the good fortune of being cured of leukemia through stem cell transplants at Maisonneuve-Rosemont Hospital. It is therefore important to me and my family to contribute to the advancement of research in this promising field," said William Brock. "Research saves lives. It allowed my husband to see our two children flourish and to continue his brilliant career. Our family stayed together and more united than ever. The creation of this Chair is our token of appreciation," added Maryse Bertrand.
In September 2004 Mr. Brock was diagnosed with acute myeloid leukemia, seven years after his father's death from the same diagnosis. He survived thanks to the skill and care of the doctors and nurses at Maisonneuve-Rosemont Hospital and a stem cell transplant from his brother. Mr. Brock has already raised, through a number of initiatives, $2 million of the $3 million required for this Chair. In the spring of 2010 he cycled across Europe to celebrate the fifth anniversary of his transplant, and in 2012 he published (in English and in French) Portraits of Hope, a coffee-table style book that tells the stories of blood cancer survivors including Saku Koivu, Paul Henderson and John Gomery, their families and the health care professionals who helped them along the way. Mr. Brock took many of the portraits appearing in the book. This month he is celebrating the tenth anniversary of his recovery.
"The energy and generosity of Maryse and William Brock are exemplary," noted the UdeM rector. "Not only have they been very generous but they have also worked hard to raise awareness of the importance of the leading-edge work being done right here in Montreal. Their philanthropic commitment has inspired a wave of generosity that's still being felt today and will soon lead to the creation of the chair that will bear their name. I'd like to thank them most sincerely."
"Regenerative medicine is very promising and has almost unlimited possibilities in addition to feeding the hopes of thousands of patients. The creation of this Chair will allow the group of researchers and doctors at the Maisonneuve-Rosemont Hospital, whose expertise is recognized internationally, to continue their groundbreaking research on stem cells, and the heart of the Centre of Excellence for Cellular Therapy, one of the jewels of our establishment. A sincere thank you to Maryse and William Brock for their continued support," says Manon Boily, Executive Director of the Maisonneuve-Rosemont Hospital.
Development of a research infrastructure that serves as a bridge between transplant patients and the work being done in the network of Université de Montréal laboratories has made it possible to transfer these latest scientific discoveries directly to patients. This type of research that is directly applied to the patients, also known as "translational" research, demands a solid, well-established research infrastructure in order to transfer expertise that's been developed in the lab to patients and develop new treatments.
It is possible to make a donnation on the Maryse and William Brock Chair web site.
The outcome is better health and major benefits for patients. Creation of the Chair in Applied Stem-Cell Transplant Research will certainly help achieve this goal.
Information:
Université de Montréal
Mathieu Filion
514-343-7704