A 5-year financing to support Alexey Pshezhetsky's leading program in glycomics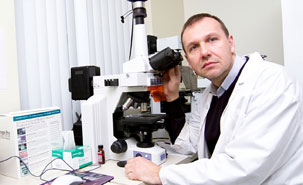 The Networks of Centers of Excellence of Canada announced on February 6, 2015, that its newly selected national research network GlycoNet was receiving $27.3 million over five years to develop new drugs and vaccines for conditions such as influenza, genetic diseases and diabetes, building on Canada's international leadership in glycomics.
Dr. Alexey Pshezhetsky, a world-leader in glycomics active as a researcher at CHU Sainte-Justine and a full professor in the Department of Paediatrics and the Department of Biochemistry and Molecular Medicine of Université de Montréal, was among the investigators that were awarded the financing announced for the network. Dr. Pshezhetsky will be working together with his collaborators from GlycoNet to understand if changes in blood sialic acids represent a risk factor for atherosclerosis and diabetes in human population.
So far, Dr. Pshezhetsky and his team have established a link between sialic acids –a particular type of sugar– and common metabolic disorders, diabetes and atherosclerosis. More specifically, they have discovered that sialylation of surface receptors and blood cholesterol particles plays a major role in the development of insulin resistance, which contributes to Type 2 diabetes and the formation of atheroma, which restricts blood flow in cases of atherosclerosis. Dr. Pshezhetsky's program should gradually evolve into studying the roles played by sialic acids in health and disease at a global scale.
Atherosclerosis is the leading cause of cardiovascular diseases in general. Diabetes is one of the major causes of premature illness and death, with the total deaths from this disease projected to rise by more than 50% in the next 10 years, according to the World Health Organization.
About the Sainte-Justine University Hospital Research Center
The Sainte-Justine University Hospital Research Center is a leading mother-child research institution affiliated with the Université de Montréal. It brings together more than 200 researchers and 350 graduate and post-graduate students focused on finding innovative prevention means, faster and less invasive treatments, as well as personalized approaches to medicine. The Center is part of CHU Sainte-Justine, which is the largest mother-child center in Canada and second most important pediatric center in North America.
Source: Communications, Sainte-Justine University Hospital Research Center