French Ministry of Justice and Université de Montréal sign partnership agreement
04/24/2015

Salle de presse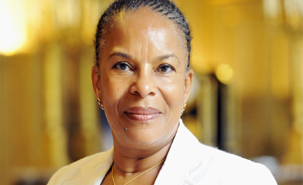 Cyberjustice expertise at Université de Montréal's Faculty of Law has led France's Ministry of Justice to sign a partnership agreement with the university. It was signed today by the Keeper of the Seals and Minister of Justice of France, Christiane Taubira, during a visit to the university's Cyberjustice Laboratory.
The partnership agreement is for a period of three years and involves assistance in the conceptualization and development of Portalis, an internet portal that allows proceedings to be conducted online, and the release of a software core that was developed by the Cyberjustice Laboratory and its team of technical experts.
Université de Montréal Rector Guy Breton underscored the significance of the partnership. "Université de Montréal is the most French of all the major universities in the Americas. It's also a place where experts at the avant-garde of information technologies come to exchange ideas with scholars and practitioners seeking to modernise justice systems through effectiveness and transparency. This partnership with the Ministry of Justice of France is an outstanding recognition of the work accomplished by the Cyberjustice Laboratory team so far and opens new avenues for productive research."
The agreement signed with the French Ministry of Justice is the latest of several partnerships concluded by the Cyberjustice Laboratory, including agreements with the Quebec Ministry of Justice, the World Bank and France's National Chamber of Judicial Officers. "These collaborative arrangements make it possible for us to work in very different contexts, to connect with a greater number of players and accordingly make progress in improving access to justice," said Karim Benyekhlef, director of the Cyberjustice Laboratory and full professor at Université de Montréal's Faculty of Law.
"The Faculty of Law is honoured by the Keeper of the Seals' visit," said Benoît Moore, Acting Dean of Université de Montréal's Faculty of Law. "This visit represents a new step forward in cooperation between France and Quebec, and a major acknowledgement of the excellence and importance of our Cyberjustice Laboratory and its work. We're all very proud."
About the Cyberjustice Laboratory
The Cyberjustice Laboratory is situated at Université de Montréal's Faculty of Law It is developing next-generation open source, interoperable software tools that can be adapted to different modes of dispute resolution (judicial and extrajudicial) including those involving particular social and cultural constraints. With its international and multidisciplinary team, the laboratory applies technological sophistication to legal issues in order to offer solutions to the justice system.
Information:
Mathieu Filion
Senior Advisor, Media Relations
Université de Montréal
514-343-7704