Guy Breton inducted into the Order of Canada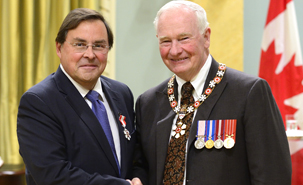 Dr. Guy Breton, Rector of Université de Montréal, received the insignia of Member of the Order of Canada today, Friday, May 8, 2015, presented by His Excellency the Right Honourable David Johnston, Governor General of Canada. The appointment of Dr. Breton to the Order was announced by the Governor General's office in June 2014.
The investiture ceremony took place at Rideau Hall in Ottawa.
Dr. Breton was appointed to the rectorship of Université de Montréal in 2010. The university is the largest general university in the French-speaking world. He is a full professor in the Faculty of Medicine, specializing in radiology, and has taught at Université de Montréal for over 30 years. In that time, he has served as director of his department and executive vice-dean of the Faculty of Medicine, among other positions.
Media contact:
William Raillant-Clark
International Press Attaché
University of Montreal (officially Université de Montréal)
Tel: 514-343-7593
w.raillant-clark@umontreal.ca
@uMontreal_News