Florine Moldovan receives 2014 Grammer European Spine Journal award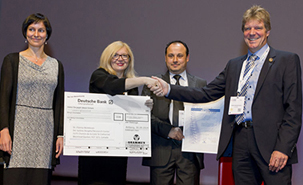 Florina Moldovan, researcher at CHU Sainte-Justine and full professor in the Department of Stomatology at Université de Montréal, was awarded the 2014 Grammer European Spine Journal Award for her major new insights in the study of scoliosis. More specifically she was awarded the highest award in spinal research worldwide for publishing the best basic science and applied research article of the 2013-2014 academic year: "Microarray expression profiling identifies genes with altered expression in adolescent idiopathic scoliosis".
The causes of adolescent idiopathic scoliosis are still unclear, and scientists suspect them to be of a genetic nature. By studying spine tissue samples, Moldovan's team identified certain gene clusters where the genetic information was expressed differently in scoliosis patients, as compared to healthy individuals. Moldovan's research interests also include cellular and molecular biology, signal transduction in joint tissues, and molecular interactions between endothelins (ETs), metalloproteases (MMPs) and tissue inhibitors of MMPs.
About CHU Sainte-Justine Research Center
CHU Sainte-Justine Research Center is a leading mother-child research institution affiliated with the Université de Montréal. It brings together more than 180 research investigators, including over 90 clinicians, as well as 350 graduate and post-graduate students focused on finding innovative prevention means, faster and less invasive treatments, as well as personalized approaches to medicine. The Center is part of CHU Sainte-Justine, which is the largest mother-child center in Canada and second most important pediatric center in North America. More on research.chusj.org
Source:
Communications, Sainte-Justine University Hospital Research Center
communications@recherche-ste-justine.qc.ca