Université de Montréal awards honorary doctorate to Thomas Bach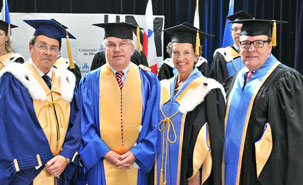 Today, Université de Montréal Rector Guy Breton awarded an honorary doctorate to the President of the International Olympic Committee, Thomas Bach, in the presence of Marcel Aubut, the President of the Canadian Olympic Committee (COC). This honour was presented as part of the Canada Olympic Excellence Day celebrations organized by the COC in Montreal.
"In consideration of the unique ties between Mr. Bach and Montreal, the innumerable successful projects to which he is a signatory, the model of achievement he represents and the modern spirit he has brought to the international Olympic movement, of which our city is a part, Université de Montréal hereby confers this degree of doctor honoris causa," said Dr. Breton.
"Thomas Bach has worked all his life to strengthen the role of sport in society in order to ensure Olympic values reach beyond the arena. These values are excellence, fulfillment, peace and justice", said Marcel Aubut, President of the Canadian Olympic Committee. "His perseverance has led him to the highest peaks of world sport, both as a Montreal 1976 gold medalist and now as President of the International Olympic Committee. I am very pleased that Université de Montréal recognizes the immense contribution of this visionary leader and humanitarian, whose Olympic journey began on this campus during the 1976 Games. "
Prior to receiving his honorary doctorate, Thomas Bach visited the CEPSUM sports complex, where he was joined by Olympic athletes and meet a group of almost 500 children. His relationship with Montreal is a very special one, in view of his outstanding performance as a member of West Germany's fencing team at the 1976 Summer Olympics, winning a gold medal in men's foil. The competition took place at the CEPSUM winter stadium, which for today's occasion resumed the form it had during the 1976 Olympic events.
About Thomas Bach
Thomas Bach holds an advanced degree in law from the University of Würzberg, Germany, where he was born in 1953. His university studies included political science as well as law. He first became active on the IOC in 1981, as a member of the Athletes' Commission. Over the next 30 years, he was a member or chair of numerous IOC Commissions, including the Evaluation Commission, the Sport and Law Commission, and the Broadcast Rights and New Media Commission. As a pillar of the Olympic movement, he was in due course elected president of the IOC in 2013.
About the CEPSUM
Built in 1975 primarily as a training centre for the Montreal Summer Olympics in 1976, the Université de Montréal Centre for Physical Education and Sports (CEPSUM) is one of the most significant legacies of the first Olympic Games ever held in Canada. Today it remains one of the country's largest and most comprehensive athletic complexes, and welcomes over 1 million visitors annually from the Montreal university community.
-30-
Media enquiries:
William Raillant-Clark
Press Attaché
Université de Montréal
514 343-7593
w.raillant-clark@umontreal.ca