Janusz Kaczorowski Honoured by the British Medical Journal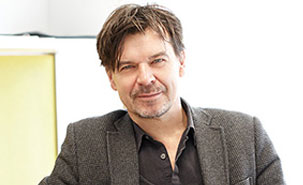 Changing your lifestyle and consulting a healthcare professional can save your life. While this may come as no surprise, a study published in 2011 by the British Medical Journal demonstrated that a community-based cardiovascular prevention program resulted in a 9% decrease in hospitalizations in 39 Ontario communities for heart attack, stroke and heart failure.
The study "Improving cardiovascular health at population level: 39 community cluster randomised trial of Cardiovascular Health Awareness Program (CHAP)," led by Janusz Kaczorowski, PhD, affiliated with the CHUM Research Centre (CRCHUM) and the University of Montreal, was selected one of the 20 outstanding articles published since the mid 1990's to mark the BMJ's 20th year of digital publication.
"This article will have enormous influence over the coming years because it tests, with positive, patient-important results, an intervention aimed at harnessing 'volunteer power' in the community," explained Brian Haynes, Professor of Clinical Epidemiology and Medicine, McMaster University Faculty of Health Sciences, and member of a selection committee of 20 internationally renowned scientists.
"I am overwhelmed at having been included in that list," said Janusz Kaczorowski. The CRCHUM scientist and professor in the Department of Family Medicine and Emergency Medicine at the University of Montreal has also just been named one of the Top 20 Pioneers of Family Medicine Research in Canada by the College of Family Physicians of Canada. An award ceremony will be held in November, at the Family Medicine Forum in Toronto.
Mr. Kaczorowski believes we can improve healthcare not just in Canada but throughout the world with inexpensive strategies that better integrate and coordinate existing resources. This is precisely the goal of the Cardiovascular Health Awareness Program (CHAP), launched about 15 years ago. Through mobilizing volunteers, community resources and healthcare practitioners, the program helps prevention, detection and treatment of cardiovascular disease. "Cardiovascular diseases, like diabetes and high blood pressure, constitute the biggest heath threats among developing nations. Ample evidence supports the importance of a healthy diet, exercise, not smoking and obtaining diagnoses, prescriptions and follow-ups from a healthcare professional," noted Janusz Kaczorowski.
After proving its worth in Ontario, Alberta and British Columbia, the program will now be customized to a diabetic population in the Philippines, multiethnic patients in York, Ontario and elderly persons in Laval, Quebec. "We want to make sure those with the greatest need have access to a family physician," he said. The Laval Centre de santé et de services sociaux (CSSS de Laval) has developed a cardiometabolic disease prevention/management strategy and our program is the portal for service to all Laval residents." Janusz Kaczorowski ultimately intends to demonstrate that awareness results in better personal and community health, while generating savings for our healthcare system.
About Janusz Kaczorowski
Janusz Kaczorowski is a Principal Scientist at CRCHUM. He is also a Full Professor and Research Director, Department of Family and Emergency Medicine, University of Montreal. He is the University of Montreal Doctor Sadok Besrour Chair in Family Medicine and the University of Montreal and GlaxoSmithKline - Canadian Institutes of Health Research (GSK-CIHR) Chair in Optimal Management of Chronic Disease. Professor Kaczorowski is also affiliated with McMaster and McGill universities. With a doctorate in sociology, he has enjoyed great success using new research techniques to improve public health. His work has had a direct impact on medical practice and patient lives, particularly by raising questions about the need for routine episiotomies and caesarian sections during first deliveries and by reducing the number of hospitalizations for cardiovascular diseases.
References