House of Cards can make you cynical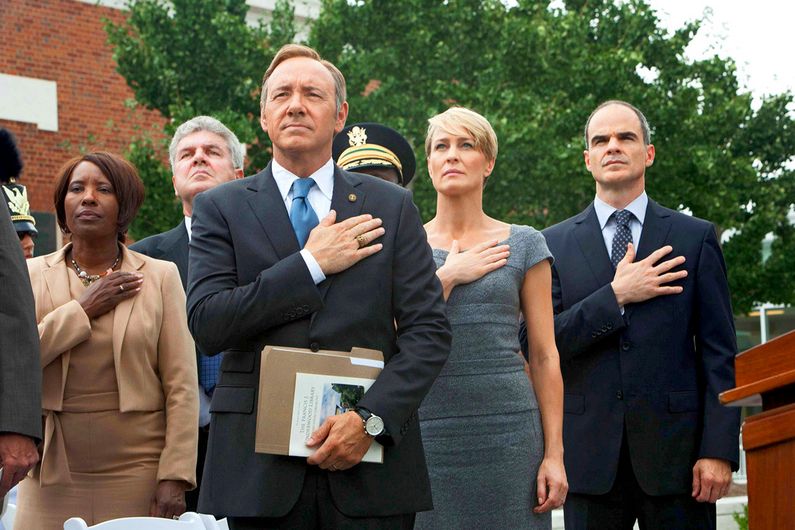 For her doctorate in political science, Alexandra Manoliu explores the impact of political TV series on cynicism in the electorate.
Watching TV series about the U.S. presidency can make voters more cynical about politics in general, an Université de Montréal PhD candidate has found. "We tested the effects of House of Cards and The West Wing on a population unfamiliar with these television shows, and our results demonstrate that people's cynicism can increase after watching a single episode," said Alexandra Manoliu, who is currently analyzing the results of her doctoral survey of 180 research subjects.
"For viewers who already had a negative bias towards politicians, watching House of Cards strengthened their cynicism. For those who were neutral about the subject, viewing the series had a measurable effect on creating cynicism," the student noted, adding that The West Wing did not have a significant effect.
In her study, Manoliu used scientifically validated questionnaires to measure her subjects' cynicism. For example, they were asked to what extent they agreed with the following statements: "Politicians think only of their own interests"; "Most representatives are concerned about the problems of ordinary people;" "Electoral candidates make promises they have no intention of fulfilling."
The research subjects, mostly university students aged 19 to 25, were met before and after the screening to gauge the effects of these shows on their perception of reality.
Self-serving politicians
he West Wing, which aired from 1999 to 2006, explores the inner workings of the US presidential senior staff, whose offices are located in the West Wing of the White House. Launched in 2013, House of Cards is an adaption of a British television series and features a Democratic congressman, Frank Underwood, who is ready to do anything to serve his ambition to become president.
"With each Frank Underwood monologue about manipulation and corruption, viewers slowly begin to doubt real-life politics and consider real politicians as self-serving individuals who will do anything to win—to the point of no return," Manoliu writes in an article published in the journal of the University of Sheffield's Crick Centre, in England.
Is it any wonder that audiences link fiction to reality? "We want honest and trustworthy politicians to hold power in the real world, but in the privacy of our homes, we admire the Machiavellian, skewed personality of a Frank Underwood, who would walk over corpses to get what he wants," she writes.
She mentions that President Barack Obama, who is a fan of the series, reported on social media that life in the White House is actually much more boring than the way it's portrayed in House of Cards.
In her research, Manoliu advanced the hypothesis that TV series like these foster cynicism, and she was right. "If we were able to measure this after one episode, imagine our results after a whole season, which has thirteen! And the entire series has five seasons," said Manoliu, who is supervised by André Blais, Canada Research Chair in Electoral Studies, and Frédéric Bastien, political communication specialist in UdeM's Department of Political Science.
New media reality
Previous studies have sought to measure the effects on the democratic process of political variety shows such as Saturday Night Live and talk shows like The Oprah Winfrey Show. But until now, none measured the impact of major series that air on network television or on channels such as Netflix, which alone accounts for 40 million subscribers. "The phenomenon is not necessarily new but it has grown in recent years with 'binge watching' of entire seasons," said Maouliu, a Romanian who moved to Canada three years ago to pursue her studies.
With a bachelor's and master's degree from Alexandru Ioan Cuza University, Manoliu specializes in political marketing. For her doctorate, she turned to UdeM. Initially, her research dealt with an entirely different subject than TV shoes, but after watching a political drama series she got the idea to do research on cynicism generated by fiction.
She hopes that her doctorate, spread out in three scholarly articles, sheds new light on the role of the media in the democratic process.
By the same author
It has long been known that candidates for key positions of power must inevitably hit the talk-show circuit. In Quebec, for example, it would be unthinkable to get elected without appearing on Tout le monde en parle. In the United States, Bill Clinton gained enormous public appeal when he played the saxophone on The Arsenio Hall Show in 1992. This trend has pushed politicians to become professional actors, writes Manoliu in a recently published article. As for the candidates in the 2016 presidential election, "They went from being professional interview subjects to being professional entertainers. They have to become 'one of us,'" she writes.
An example of this reality is when Hillary Clinton appeared on The Tonight Show in September 2015 in conversation with Donald Trump (played for comic effect by host Jimmy Fallon).
---