PhD student investigates Islamic State propaganda
02/10/2017

Forum , Mathieu-Robert Sauvé

For her PhD in criminology, Valentine Crosset documents the spread of terrorist propaganda over social media.
"Participate in the media war against the crusaders," exhorted a recent tweet by the terrorist group Islamic State. "Fifty percent of the war is waged via the media, [so] download, upload and share as much as possible."
Twitter is one of Islamic State's preferred platforms, according to Valentine Crosset, a PhD student in criminology at Université de Montréal who is doing her thesis on the phenomenon. The Washington, D.C.-based Brookings Institution found that, from September through December 2014, there were at least 46,000 Twitter accounts used by Islamic State followers. "Facebook was also used for propaganda, but Facebook administrators reacted quickly by suspending the accounts," Crosset said. "Twitter also intervened, but much more slowly."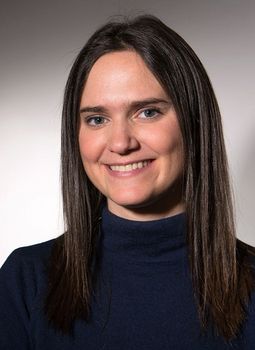 Valentine Crosset
Credit: Amélie Philibert
Followers of these types of accounts are redirected not only to images of battles, beheadings and torture, but also to the Islamic State's online magazine Dar Al-Islam, which glorifies the people responsible for the deadly terror attacks in Belgium and France in 2016. Users are often also exposed to the group's official propaganda. Rumiyah, another online magazine, exhorts followers to spill the blood of infidels: "This includes the businessman on his way to work in a taxi, young adults playing a sport in a park, and an elderly man in a lineup to buy a sandwich," the magazine says. "In fact, even the blood of the infidel selling flowers to passersby from behind his stand deserves to be spilled."
This type of propaganda is a hallmark of Islamic State, which has made prodigious use of social media since 2006 to spread its reach in the Western world.
In search of jihadists
"Its main goal is to recruit combatants, but it is also seeking to raise money and spread the jihadist message," explained Crosset, 26, a Belgian national who studied psychology before taking up criminology in 2013. Her research is being supervised by Benoit Dupont and Samuel Tanner, professors in UdeM's School of Criminology.
Crosset began her a bold investigation into the use of social media sites by Islamic State jihadists several months after passing her comprehensive exam, and has since started building a database of their activity. She recently identified some 300 Twitter accounts more or less closely linked to the terrorists. Within weeks, these accounts were identified and suspended by site administrators. Crosset had taken screenshots, however, so the proof was preserved.
Her research approach is one of "non-participant observation." She created a "neutral" Twitter account that allows her to read the propaganda messages circulating in cyberspace, without producing any herself. She didn't have to assume a fake identity; if people ask who she is and what she's doing, she says so. The online traffic demands constant monitoring, so that the propagandists can be tracked. "Everything moves very quickly. While I'm talking to you, several messages have probably been intercepted," she pointed out in a recent interview, eager to get back to her computer.
Constantly adapting their strategies, the Islamic State's "press agents" have become adept at getting around the barriers and filters put in place to limit the spread of their hate speech and online calls to criminal action, illegal in most countries. These days, for instance, the group appears to abandoning Twitter in favour of Telegram, the encrypted messaging app.
It isn't easy to connect to a terrorist network, as Crosset quickly discovered when she began her research. The Arab symbol for Islamic State is easily recognizable by search engines, leading to the rapid shutdown of sites that host it, so followers have learned to use more subtle means to access them. One Twitter user's page shows a picture of a sleeping cat, for instance, but a quick read of some of the tweets quickly shatters any illusions of innocent intent.
Should governments act to stop the online spread of terrorist propaganda? The issue is a thorny one, Crosset believes. France has acted the quickest and gone the farthest by adopting new intelligence-gathering legislation in 2015, Law 2015-912, but this law has been severely criticized for its lack of effectiveness and its limits on freedom of speech.
Better insight
Why did Crosset choose this research topic? Simply to gain better insight into how terrorist groups use social media sites and maintain their visibility. "Before starting my doctorate, I was tempted to do a study on radicalization methods," she recalled. "I'm still interested in this topic, but on a different level. I'd like to conduct a virtual ethnography of this phenomenon."
Live images of atrocities such as beheadings are provocative, but not easy to find online. Instead, along with its military victories, Islamic State emphasizes economic development and community-oriented themes such as its contributions to public-works projects. The religious component of its mission is also very visible.
Social networks have become a new battleground, marking a paradigm shift for terrorists, who in the past had mostly sought to stay in the shadows. "The Islamic State," Crosset wrote in a summery of her thesis project, "has chosen to sacrifice secrecy in favour of greater publicity. In addition to the capacity for mass mobilization, the organization has inspired individual initiatives through its broad communication efforts targeting the widest audience possible. Some people become so absorbed by these stories that they are prepared to kill in the name of the Islamic State."
For instance, in one study she came across, the majority of perpetrators of some 20 attacks associated with Islamic State in 2015 had consumed online propaganda that the terrorist group had disseminated.