On the shorelines
03/10/2017

Salle de presse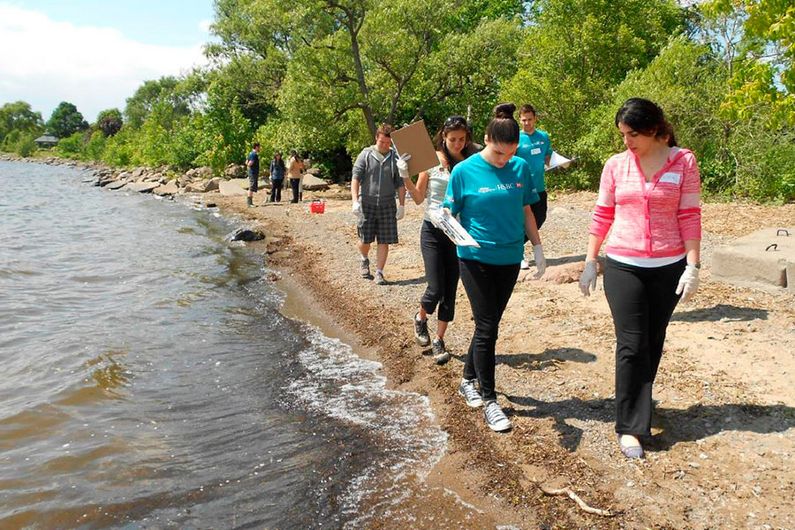 Volunteers trained by UdeM biologists test the environment of 28 Montreal parks along the St. Lawrence River.
Over three successive summers and autumns, 69 "citizen scientists" fanned out around the island of Montreal to take samples of water, vegetation and litter from the St. Lawrence River shorelines of of 28 municipal parks.
Trained by researchers at UdeM, the volunteers were part of a worldwide initiative called the FreshWater Watch organized by the Earthwatch Institute, a Boston-based environmental NGO.
What they found during those May-to-November roundups from 2013 to 2015 was positive, said biology PhD David Levesque, whose paper on the subject was published in early February in Science of the Total Environment.
Half the sites were classified as "good," meaning the water was quite clear, nitrate and phosphate levels were low, there was little vegetation washed up on shore, and not much litter.
And the other half?
"There's no point being alarmist," said Levesque said, who led the study supervised by UdeM biology professor Antonia Cattaneo, now retired. The volunteers were employees of the project's sponsor, HSBC Bank.
"The water quality around Montreal is reasonably good. Compared to the other 25 global cities that were studied [by FreshWater Watch], Montreal had some of the best water quality."
Environmental norms here are stricter than elsewhere, he added. In much of Asia, for instance, the norms are so loose or unrespected that "they run into problems much faster than we do."
Surprising lack of litter
One surprise: the relative lack of litter on Montreal's beaches. It's mostly the remnants of picnics (cans, bottles and other packaging), cigarette butts and fishing materials. Blooms of blue-green Lyngbya wollei algae were found at 57% of sites, however.
The "citizen scientists" who collected the samples – employees of the bank – were given a week's training and then provided with material to do the work by UdeM's biology department.
"They were very motivated, and there were so many of them, they had a much greater impact that just a team of university researchers could have had," Levesque said. "It's an interesting way of doing things that could be promising for the future."
The volunteers's environmental work adds to what's already being done by the City of Montreal, as well as other municipalities and the Quebec and federal environment departments, to monitor water quality around the metropolis.
"One of our objectives is to come up with simple, fast, cheap tools the city can use to get a better idea of the biology of a site," Levesque said.
"Let's say they're thinking of opening up a a new public beach. If all they're worried about it whether there'll be enough room for parking, they should remember: it's the biology that counts."