Montreal tells its story
06/05/2017

François Guérard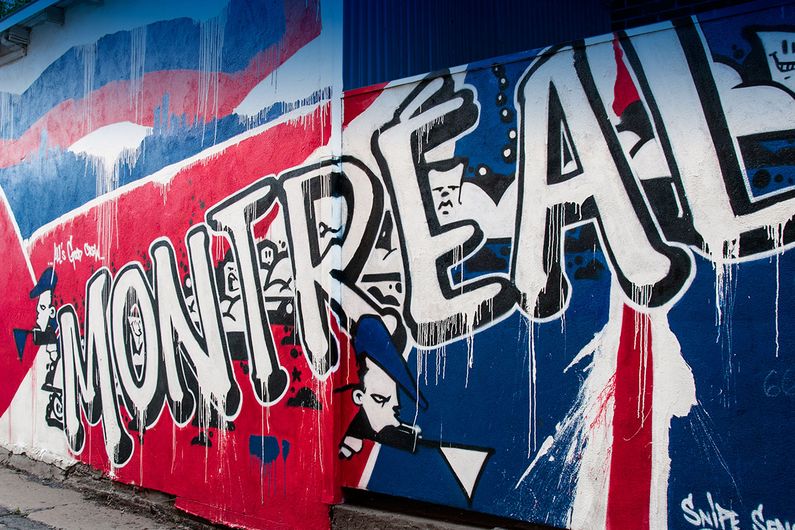 As it celebrates its 375th anniversary, how does Montreal see itself? To mark the occasion, several UdeM professors lend their voices to our great city.
You're turning 375 this year: Do you feel young or old?
Well, it depends on who I compare myself to. My ancestor, Paris, dates all the way back to Roman times. And you may recall that my big sister, Quebec City, already celebrated her 400th anniversary.
You were founded out of the desire to establish a religious utopia. What remains of that today?
My answer will surprise you, but I believe that the devotional origins of my founding evolved into an openness to the other. At first, I was a radical religious project with a mission to unite different peoples into one people under God and king. But my zeal for integration created a multicultural people made up of Amerindians, the French, Black and Indigenous slaves, English prisoners, etc. within this point of transit and trading hub. Beneath a Catholic veneer, they were a people at times turbulent, always jealous of their independence, who, out of tradition, spirit and courage, as well as commercial pragmatism, tended to favour inclusion over exclusion. (Dominique Deslandres, Department of History)
Is there still a rivalry between you?
It's more like Quebec City is in competition with me. (Laughs) Quebec City and I have always played very different roles. From the outset, she was the administrator and I was the merchant, the port city, the border city. These roles still define us today. And since half of Quebec's population of four million lives in my territory – which includes the suburbs – I represent a kind of fault line separating me from the other half of the province. So, you could say that there are two Quebecs, or rather two distinct personalities within one Quebec. (Jacques Légaré, Department of Demography)
It's rare for a woman to be co-founder of a colonial city, as Jeanne Mance was in the case of Montreal. What part have women played in your history?
Religious figures such as Jeanne Mance, Marguerite Bourgeoys, Marguerite d'Youville and Émilie Gamelin helped weave the first strands of the social safety net that still defines Quebec today. They founded hospitals, schools and hospices, becoming our very first nurses, teachers and social workers. From the late 19th century onward, these nuns were aided in their mission by bourgeois laywomen such as Justine Lacoste-Beaubien, founder of the Hôpital Sainte-Justine, and Grace Julia Parker Drummond, who devoted her time to charitable works while also fighting for the right to vote for women. At the time, I was a city ravaged by poverty and unsanitary conditions. While I'm not proud of the fact, my infant mortality rate was double that of Paris. (Denyse Baillargeon, Department of History)
Given your nickname as the 'City of a Hundred Bell Towers," where do you get your reputation as a festive city?
It all goes back to prohibition. When the United States and most of Canada made the sale of alcohol illegal in the early 1920s, I resisted. That made me "a rare oasis in a continent left parched by prohibition," according to the historian Michael Hawrysh. My liberal policies attracted a huge influx of American tourists to my downtown cabarets and jazz clubs, while also contributing to my bustling Red-Light district. Prohibition ended in the 1930s, but my reputation stuck. So, when the recession hit in the 80s, I relied on my notoriety and Latin roots to boost my tourism industry with festive events such as the International Jazz Festival. (Michèle Dagenais, Department of History)
There's no question that you're a city of music. Why is that?
The main reason is my wealth of talent. The Barbra Streisands and Johnny Hallydays of this world regularly hire local orchestras on their international tours, and whenever they roll into town, they're blown away by the quality of our musicians. It's a talent that shines just as brightly on the world stage: our very own Yannick Nézet-Séguin taking the reins of the renowned Metropolitan Opera in New York is but one illustrious example. This talent is nurtured by music education institutions of exceptional quality as well as a dynamic and distinctive cultural mindset that's typical of minority populations. The same trait can be found within Montreal's English-speaking community, which is, let's not forget, also a minority, and which has graced us with the likes of Leonard Cohen. (Jean-François Rivest, Faculty of Music)
Montreal is known as a party town. But you also have a quieter side. Do you consider yourself to be a safe city?
Without a doubt. My last big scare was the war between biker gangs in the 90s. But there were only 19 homicides in Montreal in 2016 – a historic low! I even attracted the attention of the Los Angeles Times, which wanted to know my secret. That's not so surprising, considering that L.A.'s homicide rate is nearly five times higher. (Rémi Boivin, School of Criminology
At your age, would you describe yourself as sporty or more of a home body?
You be the judge: I have a marathon, 788 kilometres of bike paths, the world-renowned annual Tour de l'Île, and some 260 outdoor skating rinks. Come to think of it, two of my most popular sites are related to sports: Mount Royal Park, a green oasis offering hours of fun outdoor activities, and the Olympic Stadium, home to the majority of Quebec's sports federations. I must admit, though, that I worry about my citizens' sedentary lifestyle, especially among young people. To tackle that problem, I recently launched the campaign "Montreal Physically Active," encouraging Montrealers to get out and move. (Suzanne Laberge, Department of Kinesiology)
Is being an island an advantage or a disadvantage?
I would have to say both. The disadvantages are obvious: bridges are the only way to access me, meaning that traffic congestion around my bridges is a big problem. Having to cross a river to get to me also creates a divide that has led to the ridiculous opposition between the 514 and 450 area codes, with many people considering that those living in my suburbs aren't true Montrealers. But being an island also has its advantages. For one, it's allowed me to slow down the process of urban sprawl, which has made me one of the highest-density cities in North America. My big regret is that I haven't been able to give Montrealers better access to my shoreline. I'm planning on changing that, but we still have a long way to go. (Paul Lewis, Faculty of Environmental Design)
Speaking of road congestion, some people want to make the orange construction cone your symbol.
Well, if I could suggest an alternative symbol, it would be the tree. Europeans who visit me are always impressed by my green canopy (not to mention my squirrels!). I have over 20 large parks, my botanical garden is one of the five largest in the world, and even my alleys are becoming greener. Unfortunately, we have had to cut down thousands of mature trees due to the emerald ash borer. I had a similar experience a few years ago with my elm trees. We need to replant using a greater diversity of species to avoid such tragedies in the future. (Luc Brouillet, Department of Biological Sciences)
How is your health?
Well, it depends on the neighbourhood. Around the Côte-Vertu metro station in the west, life expectancy is 85 years, but in the area around the Pie-IX metro station, it's only 74 … So, a 40-minute ride on the metro exposes a life-expectancy gap of 11 years! How is that possible, you ask, when everyone has access to the same healthcare system? A lot of it has to do with socioeconomic status and lifestyle: the eastern part of Montreal is poorer and less educated, with higher rates of smoking, sedentariness and poor nutrition. I'm facing not one, but two challenges: ensuring better access to diplomas for immigrants and better integration in the labour market for my underprivileged residents. (Dr. Réjean Hébert, School of Public Health)
Your identity was forged by a clash of cultures. What word best sums up this culture clash for you?
Everyone in Montreal knows the word "dépanneur," regardless of their mother tongue! This single word symbolizes the cultural cohabitation that's the very essence of my daily life. Did you know that Anglophone Montrealers use this Quebec term all the time? They say: "I'm going to the dépanneur." So, you see, Francophones aren't the only ones borrowing words from other languages! You'll also notice that many of my corner stores today have names like Dépanneur Papineau Wu or Dépanneur Gilford Li. These are the names of figures from my history mixed with those of recent immigrants! (Benoît Melançon, Department of French-Language Literatures)
Staying in the realm of words, how have you inspired your writers and poets?
Gaston Miron wrote: "Montreal is large as all the world's disorder." Gabrielle Roy, Michel Tremblay and many others have described me as a city in perpetual movement, where languages and cultures collide. And of all my sites, it's St. Lawrence Boulevard, known as "the Main," that best embodies this world disorder in the imagination of my authors. The Main is the place where anything is possible, a notion explored way back in the 19th century by Georges Boucher de Boucherville in his novel Une de perdue. As for my poets, they have often explored my brutal side, a trait inherent to all big cities. As Jean-Aubert Loranger wrote in 1920:
"Montreal is forever anchored
In the river,
Opposite Longueuil
By its towering factory chimneys
Planted like huge nails all around."
(Micheline Cambron, Department of French-Language Literatures)
---
You're no longer the industrial city you used to be. Instead, you're betting your future on knowledge and high-tech. I've even heard that you're very strong in the field of artificial intelligence. Is that your next engine of economic growth?
It's definitely one of them. My strength lies in research: I have the best researchers and I'm the main talent incubator in the AI field… not just here, but in the entire world. But to capitalize on all that talent, I must become a creator of artificial intelligence. Why is that so important? Because we stand to gain a lot from AI, but there will also be negative social impacts: people risk losing their jobs. If all the profits are made in California, we'll be mere consumers of this technology, which is poised to revolutionize nearly every sector of the economy. To offset the negative effects, we have to reap the benefits of artificial intelligence here and redistribute them in the community. (Yoshua Bengio, Department of Computer Science and Operations Research)